transfer market
Mile Svilar: all about the promising new Roma's goalkeeper
The 1999 class, formerly of Anderlecht and Benfica, spent three seasons with the general manager Tiago Pinto in the Portuguese club. The two meet again at Trigoria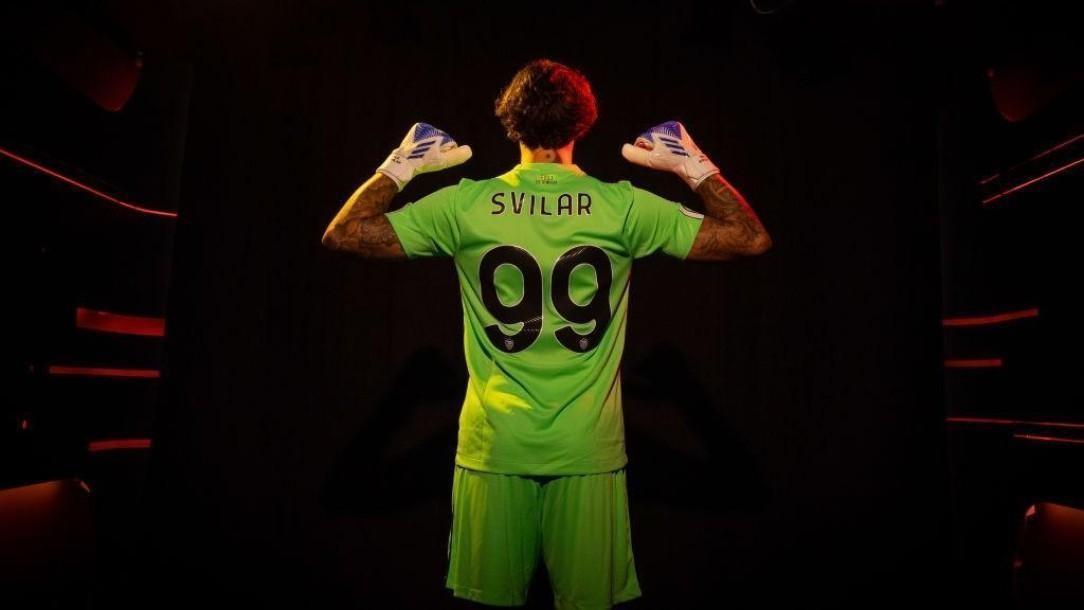 Roma recently formalized the free transfer of the Belgian-Serbian goalkeeper Mile Svilar. Bron in 1999, Svilar arrived to Rome from Benfica. The goalkeeper caught Tiago Pinto's attention, with whom Svilar shared a three-year career with at the Portuguese club.  "Mile is a young man of great prospect, with enormous potential and a strong work ethic," the Giallorossi general manager said about Svilar.
In 2017, the goalkeeper also fascinated his new manager Josè Mourinho, who coached for Manchester United at the time, in a Champions League match between Benfica and the Red Devils in which Svilar temporarily became the youngest rookie goalkeeper in the Uefa top tournament. The Portuguese coach, on the occasion of that match despite the serious mistake Svilar made on Marcus Rashford's winning goal, spoke about him at the press conference. "Only a great goalkeeper collects a goal like that," Mourinho Said. "I prefer mine to suffer a goal like that rather than being on the goal line for ninety minutes. For me he's really talented. This guy is bestial. He's a phenomenon." For Roma, Svilar will share the goal with Rui Patricio after other Roma goalkeeper Daniel Fuzato left for his new adventure at UD Ibiza.
Player Profile
Name: Mile Svilar
Age: 22
Date of birth: 27/08/1999
Place of birth: Antwerp
Nationality: Belgian, naturalized Serbian
Height: 1.89m
Foot: Right foot
Role: goalkeeper
Honors: Belgian Super Cup (2017); Portuguese Championship (2018-19); Portuguese Super Cup (2019)
Previous teams: Anderlecht, Benfica
Appearances for the senior national team: 1
His career
Mile Svilar began playing football in the youth sector of Anderlecht, in which he showed off in the academy, but he never managed to make his debut with the first team in the Eredivisie. On Aug. 28, 2017, he was bought by Benfica with whom he signed a five-year contract. In that season, Svilar made his debut with the greats and in the Champions League, beating the previous record of Iker Casillas at 18 years and 52 days. In the return match against Manchester he also became the youngest goalkeeper to save a penalty in the tournament. After his first appearances with the first team, the Serbian's stay in Portugal did not present a desired outcome and the 1999 class player found himself mainly playing with Benfica B in the Portuguese second division. Also for this reason Mile has chosen, in agreement with his agent, not to renew his contract expiring in June 2022, taking advantage of Roma's interest in transferring him on a free transfer, made official yesterday.
For the national team, Svilar played in all the youth selections of Belgium (except the Under 20) before accepting a call-up with Serbia on Aug. 20, 2021. He made his debut with the senior national team in a friendly match won 4-0 against Qatar.
Svilar's press conference
Tiago Pinto called you a symbol of Roma's future. You have a strong goalkeeper in front of you, what are your motivations? Do you think you are playing for a chance at a starting position?
"Roma is a great club. The project they presented to me convinced me. I'm here to work day by day and improve."
Mourinho has had nice words towards you in the past. What effect did those words have on you? Have you ever imagined working with him?
"He impressed me. He is one of the greatest coaches. His words meant something. To be honest, I never imagined working with Mourinho even in my best dreams, but it happened and I'm in a great club, with great fans. I can't wait to start this great adventure."
Matic convinced you to accept Benfica, did he do the same with Roma? How many languages do you speak and are you ready to learn Italian?
"I have known Matic for 10 years and he had spoken well of Benfica at that time, but this time it was Tiago Pinto who spoke well of Roma. The same situation repeated itself, but with different protagonists. I was born in Belgium so my friends are there, but I feel Serbian. My roots are there. My mother and father are Serbian. I speak 5 languages and I already understand Italian, but I still don't speak it".
With foot play, are you better off throwing long or playing with your defense mates? Last year, Roma was a team that didn't involve the second goalkeeper as much. Have you thought about how to undermine Rui Patricio?
"I like to play both short and long, depending on the circumstances of the game and the tactics. I came here to work hard. If I have the opportunities I will take them. I'm here to learn."
You started in Benfica, then chose team B and are now here as second goalkeeper. Do you think this is the right path for you?
"I started very strong in Benfica, but then something happened. I wouldn't talk about having dropped the category, since gaining experience in the Portuguese second division was a good opportunity. Considering Roma as a chance to revitalize my career? I see it this way: I'm only 22 and I have the right people around. I see it as an opportunity to improve and hone my talent, which is the most important thing. "
How do you imagine the Olimpico cheering and are there any differences with the Portuguese one?
"There are no differences, even Benfica have incredible fans. For now, I have only seen videos on Instagram and I have seen a crazy atmosphere. I am thrilled at the thought of living it at the Olimpico."
A few years ago Roma started a process of international growth, how much has this influenced your choice?
"When I was little I had a Roma shirt. It hasn't become an international club only in recent years, but it always has been one. Pinto told me about Roma's ambitions, plans and expectations."
Your father Rakto was also a goalkeeper, what did he teach you?
"He taught me everything. Up to the age of 12 he always followed me. He gave me positive and negative feedback after every game. From the age of 15 I had a great goalkeeper coach who completed my training and honed my dad's advice, which was very useful."
Seen from the outside, how important is the Conference League victory? Did you get to watch Serie A? What do you think?
"Winning a European competition is always a triumph. You just need to see how much has been said about it. I have been following Serie A closely in recent years and I can't wait to get started."
© RIPRODUZIONE RISERVATA