last minute win
Sassuolo-Roma Women 0-1: Bartoli's heart solves the problems
A glimpse of the captain in the 92nd minute knocks down Piovani's wall. A lackluster performance but 3 important points: now headed to the Champions League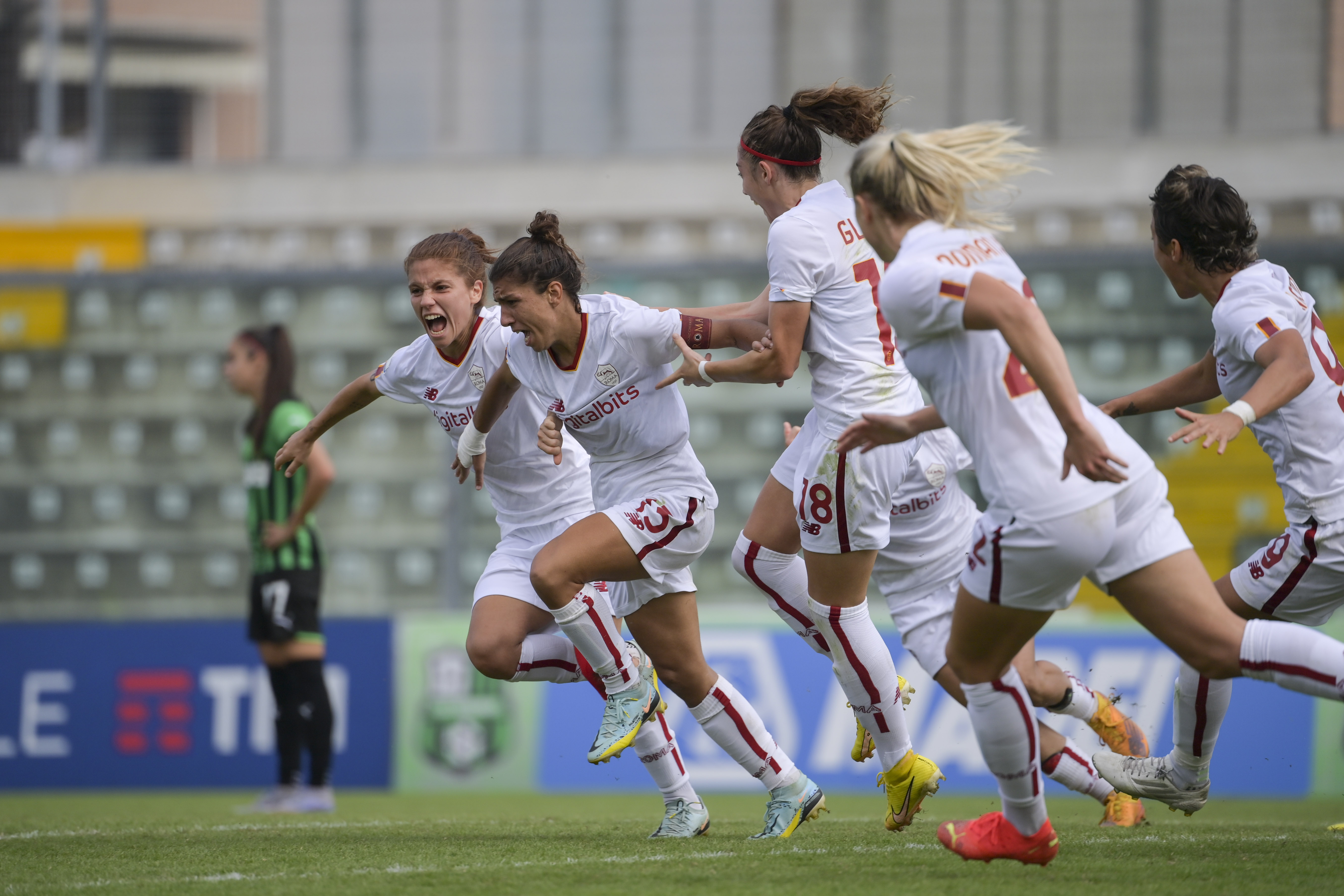 The heart of As Roma Women has a name and a surname: Elisa Bartoli. Her signature is all over the Giallorosse's most hard-fought victory in this league, the one that arrived last sunday 1-0 at Sassuolo. Her leadership and her romanism were present for the three fundamental points to get back to second place in the standings at -1 from Inter after a test in which Spugna's team, on the contrary, did not shine. 
At the Enzo Ricci Stadium Roma started strong by presenting themselves several times in front of Kresche's goal but never found the right cue to unlock the result. As the minutes went by, the ultra-defensive attitude devoted only to the restarts of Piovani's 3-5-2 (mirroring the system of play used by Spugna with Linari returning in the defensive three) somewhat packed the Roma women who lacked their usual brilliance in the setting phase and were only able to develop minimally dangerous plots passing from the wings. With Andressa, Glionna and Minami on the bench to save some strength for the Champions League, two such as Cinotti and Lazaro did not take advantage of the opportunity to show off while Giacinti seemed particularly inaccurate in the finalization phase throughout the match. After a balanced first half and a couple of restart opportunities for the black and green, Spugna tried to shake up its team by throwing in Glionna, Andressa and Haug at the start of the second half. This triple change gave a new power in the offensive phase and since returning from the locker room it has been a continuous romanista siege.
Sassuolo practically always had at least 5 players in the penalty area and in the 59th minute there was also bad luck to deny Roma the advantage: Andressa, served by Giugliano hit the post with a left-footed shot from the edge of the area. The final scoreboard read 27 shots for Roma of which only three were in the mirror: inaccuracy was about to cost Spugna's team two heavy points, but then came Bartoli's bolt, able to beat an inaccurate Kresche in the 92nd minute. It was the first league goal for the captain, the latest since she has worn the Giallorosse jersey and yet another symbol of why the armband on her arm is in the right place. Now headed to the Champions League. 
© RIPRODUZIONE RISERVATA