welcome paulo
From Turin to Faro: Dybala's long first day with Roma
Yesterday, shortly before 11 am "La Joya" landed in Portugal: "I am very happy". Then five hours of medical examinations, and the first meeting with the team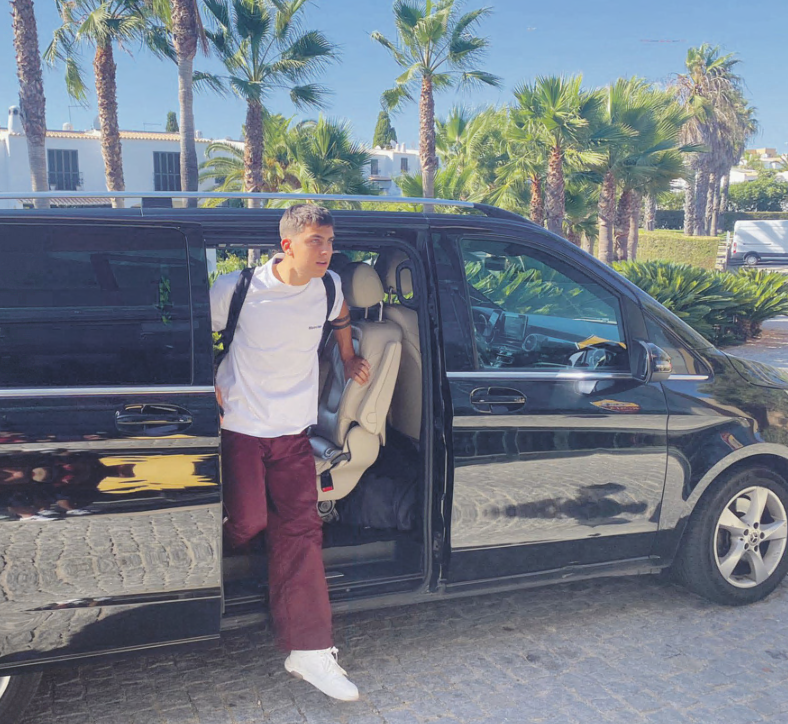 From our correspondent in Portugal Francesco Oddi

Expectations rose at dawn, and so did "Joya"; the week closed with this summer's widespread rumor of Dybala joining Roma becoming a reality following the first announcements made two nights ago. In bars across half of Italy people had breakfast commenting on Paulo Dybala's move to Roma. Dybala departed from Turin at 9 a.m. on the Friedkin family's private plane, heading for Faro. It was still 8 a.m. in Portugal, and many Roma fans there woke up to the Argentine already flying to the Atlantic coast.
Faro is a small airport, serving mostly Great Britain, from which most of the Albufeira vacationers arrive; there are no direct flights to Rome. Italians destined for the Algarve almost always land in Lisbon, with Seville as the limit, so when Roma's most important purchase in several years landed at the airport, there was not a single Roma fan there by mistake. Only a few Roma fans welcomed Dybala in Portugal since such little time had passed between his signing and his takeoff that most fans did not have time to decide to head to the coast to take a selfie with the new champion. Apparently the Friedkins were there too, but no one saw them.
"I'm happy to be here," said the Argentine as he exited the Terminal. 
When asked if Dybala would take Totti's number 10 jersey (which he had long said he was in favor of) he replied, "I can't say. It will be a surprise." However, the Argentine had decided long ago that he would keep the number 21 (his number), but in Roma's first friendlies Matic took the number. As a matter of fairness, it was necessary to talk to Matic (who gave it up without too much trouble, switching to number 8).
The very few journalists present since the start of the training camp - a couple of newspapers tried to patch it up by sending their correspondent after the Dybala deal was closed yesterday afternoon - had all left for the Hospital Particular of Algarve, following the minivan with tinted windows that was taking the Argentine to his medical visits. A journalist also saw Tiago Pinto, who was having dinner at the Argentine's home on Sunday before boarding with him and his agents, welcoming them at the airport. In addition to the photographer and personnel from the press office accompanying Dybala on his medical visit, was the doctor, Dr. Manara. 
Thorough checks
Dybala's medical examinations were lengthy, lasting more than five hours in a private hospital not far from the airport. Usually in Rome the examinations are quicker, but the mechanisms are more established, and it is easier to get on the fast track by alerting the various specialists in time. After the examination, a short parade of fans and reporters revealed the joy for Dybala landing and joining with Roma. He met his new teammates at the hotel and was greeted fondly by Mourinho, the one who insisted most on having him with the Giallorossi, and by Spinazzola, who had been his partner at Juventus. Dybala met the others at dinner. He has not yet gone to the training camp. 
The official announcement of his signing will come out today. So far, no outing or statements has been made on the club's channels, but there are few details missing, which will be filed later today. "La Joya" (which does not mean "joy" but "jewel") is a new Roma player.
© RIPRODUZIONE RISERVATA