focus
Mourinho's three "wise men"
José relies on his over 30s, Smalling, Patricio and Matic, to guide the youngest. Personality, international experience and quality at Roma's service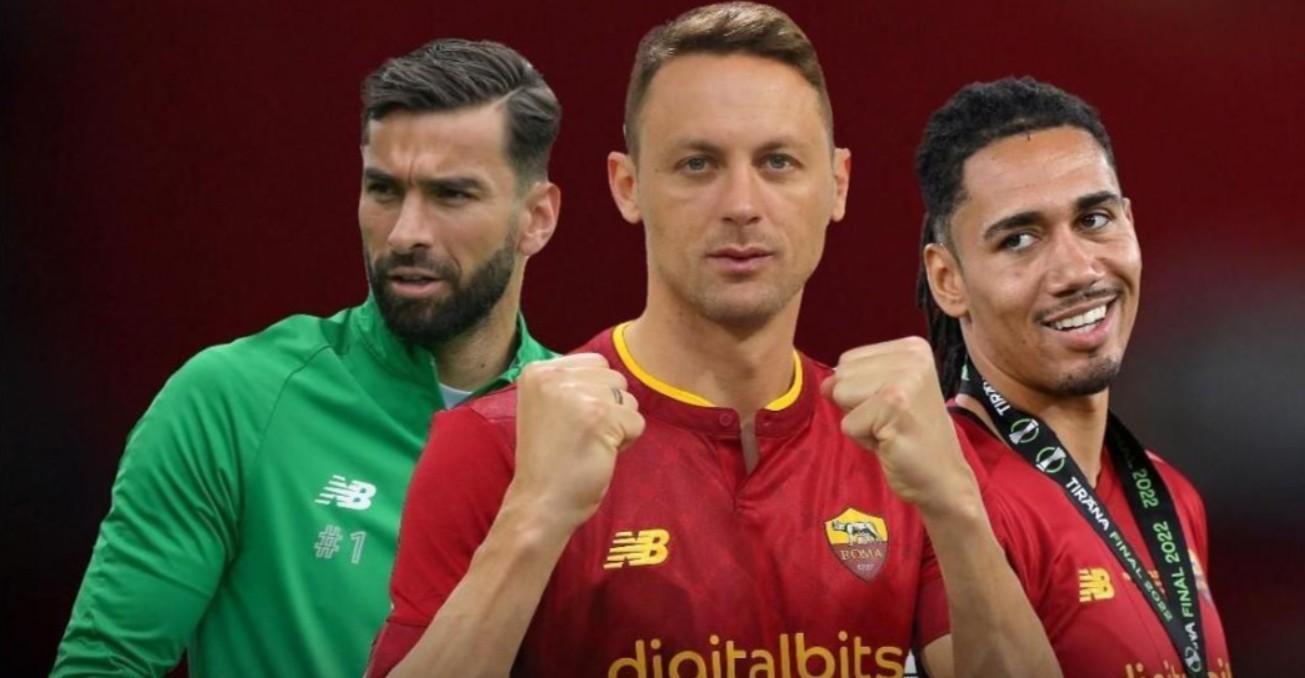 Twenty-six titles and a whopping 470 international appearances between the three of them; those are the overall tallies of Rui Patricio, Chris Smalling and Nemanja Matic combined. This trio of the "over-30s" took Roma's reins, guiding their younger colleagues and, hopefully, raising the bar in Trigoria ahead of next season. The Conference League win is a starting point, but the second year under Mourinho's leadership will be marked by the hunt for fourth place in the league and the dream of going to the Europa League. All three players understand Europe (and beyond) all too well. For example, ask Rui Patricio, decisive with his saves at Euro2016 (his save in the final earned him a statue in Leiria, his hometown) about Portugal's surprise triumph. In 2019, the goalkeeper, again with the national team, also won the first edition of the Nations League.
As for Smalling, he has 86 european appearances at the club level, including 10 in the 2016-17 Europa League, which he won with Manchester United under Jose Mourinho's leadership, beating Ajax 2-0 in the final. On that occasion, Roma' current number six also served as an assistant to Henrikh Mkhitaryan (who recently decided to seek his fortune elsewhere, not renewing his contract with the Giallorossi for next season). With Mkhitaryan leaving, Nemanja Matic, born in 1988, joined Roma. Matic was called to Roma to reinforce the midfield. The Serbian, unlike his new teammates, has only won domestically, but he has nine trophies that he collected between England and Portugal.
Personality, precise technique, leadership skills and international experience is what the "Special One" expects from his three musketeers. The Roma squad - including the other reinforcements that will arrive from the market - will remain young, under the banner of the green line. Therefore, these three leaders are needed inside the locker room and, above all, on the field in order to become competitive at higher levels.
Loyalists
Smalling, Patricio and Matic are "Mou's men", however, they have their differences. All three have a past in the Premier League - the most important league in the world right now. Smalling, after being a pillar on Mourinho's Manchester United team, seemed destined to leave Roma with the Portuguese's arrival in the capital which sparked some tension, according to some. Whether it was true or not, Smalling and Mou have put the alleged disagreements behind them, turning the page for the better for Roma. The result of Smalling's efforts for Roma - either rediscovered or never lost, it does not matter- is there for all to see with the role he played in the Conference League final.
© RIPRODUZIONE RISERVATA