The interview
Grinding out miles, from Finland to Japan: "Wherever you will be"
Also following the Giallorossi on tour was Juha Ahtinen: "We were on the other side of the world but as always, we were all united by our great love"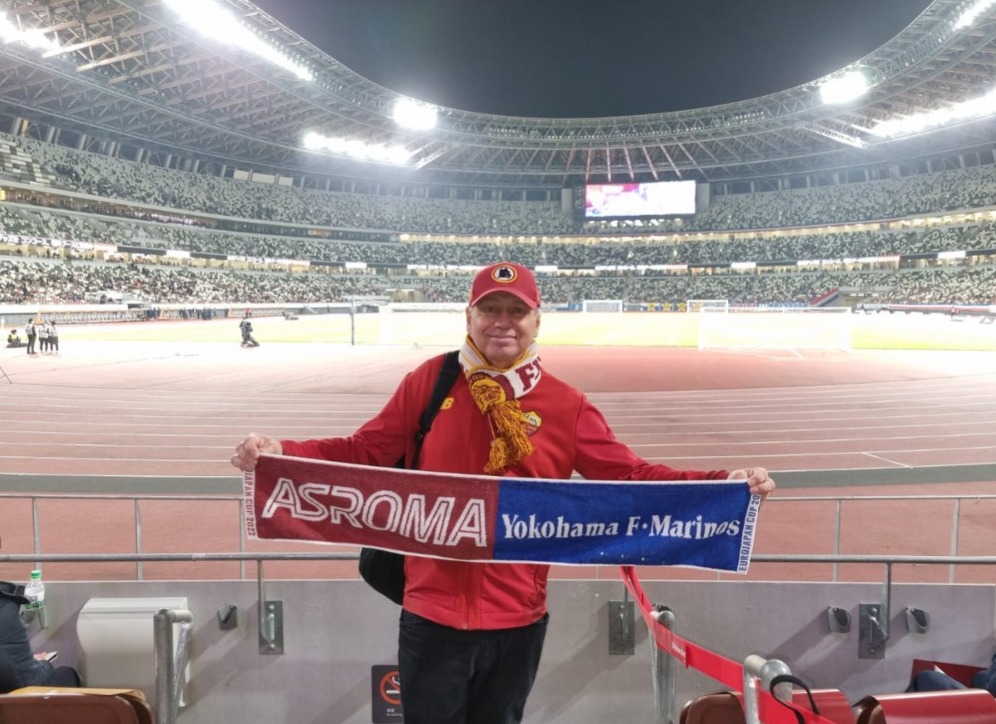 "Let's grind kilometers." That's the beginning of a famous chorus of Roma fans and is probably the mantra of one Roma fan in particular, Juha Ahtinen, a member of the Roma Club Finland who follows the team everywhere in the world and did not even miss the recently concluded tour of Japan. "For me, it is not important where Roma plays or against whom," he explained, "it only matters to be there and help support the team, wherever and however. And when he says "anywhere and everywhere," it should be understood in a literal sense. 
Your season as a fan began well before the tour.
"Before I left, I had already been to the stadium nineteen times. I went to Portugal in July, then to Israel, I saw all the matches at the Olimpico with a cup season ticket, and I also went to the away matches in Salerno, Turin, Udine, Milan, Helsinki… I had attended Roma games in ten countries but not yet in Japan." 
So you didn't hesitate to leave this time as well.
"Some of my friends and colleagues told me that it would be too expensive, especially to only see friendly matches. But I had no doubts from the beginning, and my family expected it. Mine is a passion that knows no price and often provides me a chance to meet other Roma fans. Sometime I already know them and other times I get to create new friendships. Plus, each time our Roma Club becomes even better known. This team is now global and unites everyone."
Have you also been in close contact with the team and club players?
"Yes, in Nagoya I was in the same hotel as the team. I was able to say a quick hello to Mourinho and got to meet Ryan Friedkin. This was a meeting that impressed me. We talked for a long time. He was interested in my story, thanked me for my loyalty and passion, and told me how much the club appreciates the closeness of the fans. I gave him the scarf of our group, which he gladly accepted. It was a really nice moment. It would be great one day to be able to talk to his dad, the great president Dan Friedkin."
Were you present at both friendlies?
"Absolutely. In Nagoya the atmosphere was special because you couldn't sing, however, I met many friends including the fan who carried the banner with "Nun c'è problema." Then in Tokyo I also participated in the events at "Casa Roma," but the night of the game with Yokohama at the stadium was unforgettable. On the field, we were under and struggling and at that moment I saw many disappointed faces and then I started to cheer because there was more to sing; more to push again. The team never gave up and finally got the equalizer. Apart from the game itself, though, there is one aspect that was really incredible."
Which one?
"At the stadium, we were all people from all over the world, and we didn't have a common language. But as soon as the game started, we all became brothers. Against Yokohama, we could sing and there were guys from the Curva Sud who led the orchestra and it was a spectacle. One of them said, "You are one of us," and I still get emotional thinking about it. We Romanisti are unique, dreamers and dragging, we must know how to suffer, but we also must know how to sing and celebrate like few do. Usually, the Japanese are calm and quiet, but during the evening they got involved and one wrote to me with Google Translate that he did not expect to experience so many emotions. We were many and all united by our great love for Roma."
© RIPRODUZIONE RISERVATA