the interview
The Roma Club Florida: ''We are honoured to defend our colors in the U.S."
President Stefano Papaleo: ''I always grew up with the Giallorossi in my heart. We are the first Club in the States belonging to the 'Unione Tifosi Romanisti'"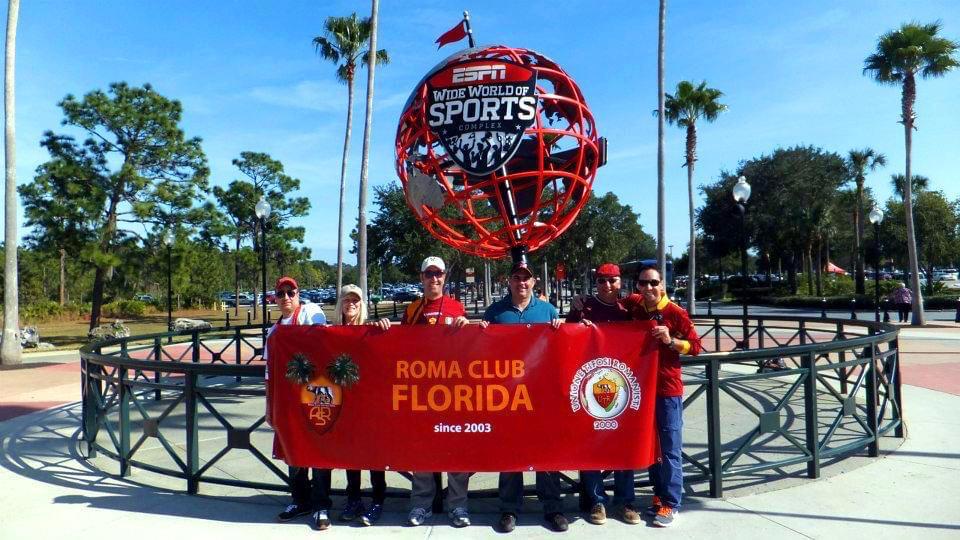 27 Settembre 2022 - 11:55
We interviewed Roma Club Florida's President Stefano Papaleo about the history of the group, how it is dedicated to Roma and how it grown in almost twenty years from its foundation
How and when was your Roma Club born?
"It's an interesting story... In 2002, my brother and I were away in Bologna, watching Bologna-Roma. On the way back we stopped at an autogrill and met the president Fabrizio Grassetti, who was together with Flora Viola, the wife of former president Dino Viola, and together with Luisa Petrucci, the fan with the parasol. My brother and I start talking to them, beginning to dream about opening a UTR club in the states. Fabrizio supports us so much because we had told him about our supporters group. So all together, we started figuring out how to move, doing everything we needed, like filling out the UTR forms. And in 2003 we started this club; which is in effect the first UTR club in the states".
What does Roma mean to you?
"I was born in the center of Rome, near Campo de' Fiori. I always grew up with Roma around me, with Roma in my heart and in the heart of the city. It has always been obvious to me to be a Roma fan and to follow Roma with love and passion. Then when I moved to the United States to complete my university degree, this love became even greater because of the distance. I moved there in 1993, and in those years there was no Internet. There was no social media. There were not all the things that there are now that we can keep in touch with. So being able to see Roma was like being able to breathe. It was really hard to be able to see the matches, and my love for Roma grew just because of the distance and because I missed it. I missed the stadium and the Monday morning speeches. I missed the league and roma in general. For example, at the time there was satellite TV, and there was this bar called Caffè Roma, where frequently Roma fans who lived in the states would meet to watch the games together. So for me, Roma has remained the bridge with my origins, with me being Roman, and it's always been something I've always been happy and proud of; especially happy to bring the symbol of Roma to the U.S.".
What do you think of this season's roster and who do you prefer?
"I have always been a supporter of Wijnaldum. So when this news of the injury came, I was under the impression that it was the worst thing that could happen to Roma. The midfield is the most neuralgic area of the field, and he was just the reinforcement we were waiting for in order to increase the offensive and defensive potential. So let's say that this departure is not positive at all. There were some problems that, in my opinion, were due to the non-presence of Wijnaldum on the team. Then Dybala is the icing on the cake, the outlier, the one who brings you the happiness of seeing beautiful soccer played".
What activities does your Roma Club offer?
"We have about 30 members in Rome and about 20-30 in the states; in Florida. The members who go to Rome have the opportunity to go to the stadium and display the banner during home games. We also try to have an annual dinner in Rome, when there is a chance to be all together, so we can celebrate the Roma Club. Sometimes we meet in the states and do social activities. This gives us a chance to get together, talk about the city, talk about the team and watch the games. Even when Roma came to the states, we had a group of us, who traveled to support our favorite team. We don't have a fixed place to watch games altogether, except for the most important ones like the conference finals. We are all scattered around Florida, so it's a little hard to tune in together. Our real meeting place is the WhatsApp group because of the distance. But in this group, we always talk and comment on everything Roma-related."
What do you think has been the best match in this season so far?
"The worst was definitely Udinese-Roma. The best, in my opinion, was the one against Atalanta. Even though Roma lost, they expressed fantastic offensive soccer. They didn't give Atalanta any space. Atalanta made, if I'm not mistaken, 2 shots on goal, while Roma made about 20. But of all the games, it was Roma's most impressive game at the beginning of this season."
Can you say a few words about the Special One?
"Mourinho has never been my favorite coach, as a type of game and personality when he was not coaching Roma. I appreciate his style, but I don't really like the soccer he plays because he is very defensive. But I have to say that since he came, he has changed both the team and the fans. I don't remember before him a compact team and such a full stadium. I think he is the glue that can take all the parts that were a little bit away from the core of Roma and improve and connect them. You have to continue to support him and give him confidence and believe in him and the team. I think the Friedkin's have also been important in this process of growing mentally as well as athletically. Now they seem to be a club that has a clear goal. They seem to know what they want, and they seem to be achieving it as professionally as possible. Mourinho has given Roma a sense of purpose, which had been somewhat lost before his arrival. He has given a reason for the fans to believe in this team. I think many players also agreed to come to the team because Mourinho as a coach means to have a kind of certificate of quality because it gives a different confidence than many others."
© RIPRODUZIONE RISERVATA