the interview
The Roma Club London 'Lupi di Londra': "The trophy was a dream. Now we go bigger"
Valerio Pelizzi: "We really like the club's project, which is to build a winning team over the years. We support Giallorossi and raise funds for poor people too"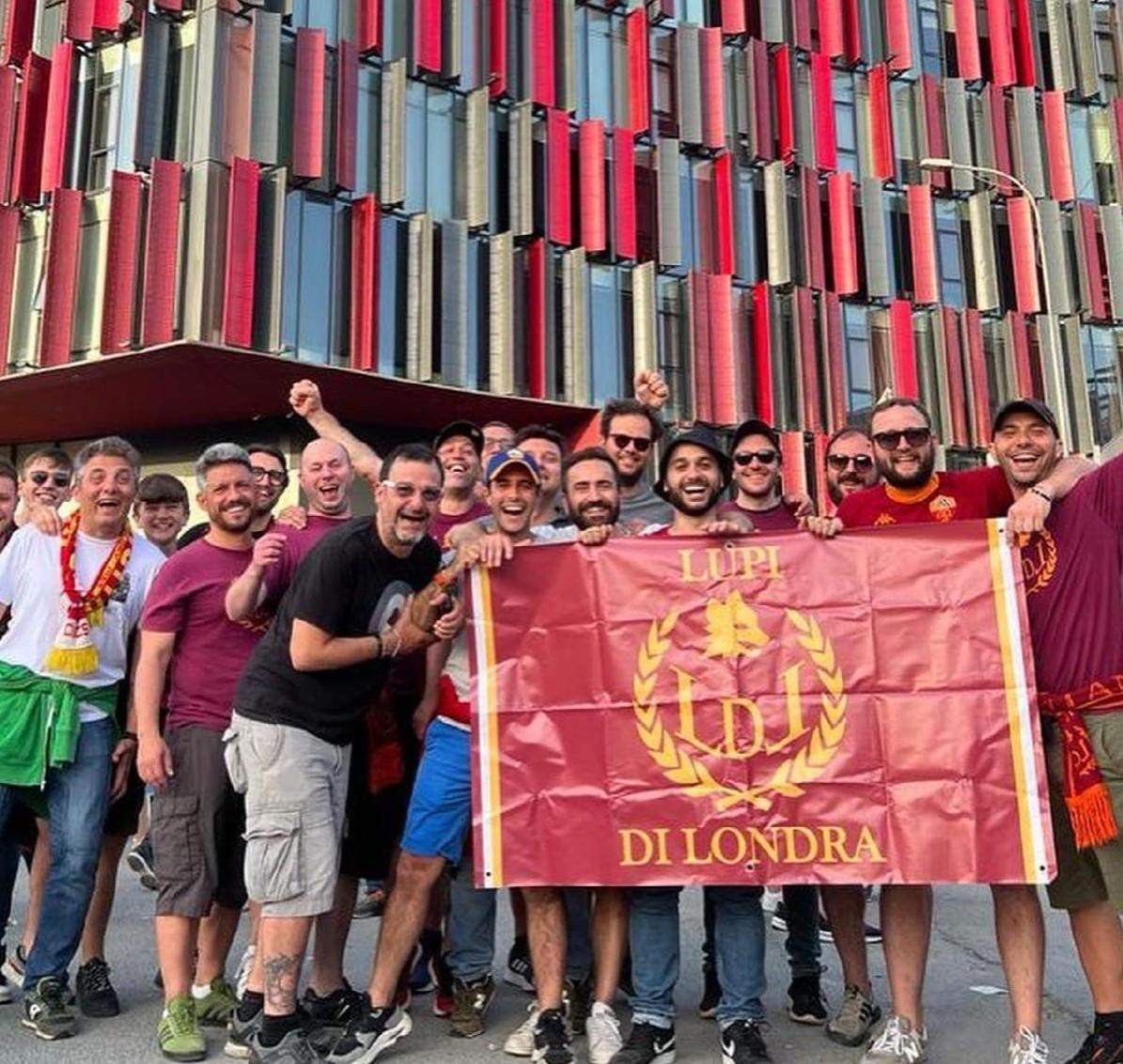 Valerio Pelizzi is one of the Board members of the Roma Club London "Lupi di Londra". We talked to him to see how on of the most important british Romanisti's fan club lived the Conference League's success in and how they feel about the market and next season.
When and how did your club start?
"The club was founded in 2003 by Roberto Maroni and Andrea Vitale. Roberto Maroni is still our president simply because they had already lived in London for a long time, and on the occasions when Roma played here in England they wanted to get tickets. It was practically impossible due to some logistical problems, so the idea of founding the club was basically born from that. The club was founded, and we registered with the UTR to be able to follow Roma here in England. For the first 8 or 9 years, the club was formed by a group of no more than 7 people who watched the game together. Then, in 2012 there was a "boom" of registrations to join because there were many emigrants including my wife and I. There were so many Romans and Romanisti who moved to London and clearly the first question you ask when you arrive in London is: 'Where can I watch Roma's games?'. We got bigger, found a bigger venue and we broadcasted the games. Today, we created a club that has about 200 members. In 2019, we became a charity, therefore an NGO (Non-Governmental Organization); we organized fundraising for various problems like the unfortunate earthquake in Amatrice or the flood in Sardinia. Furthermore, before COVID, we organized the Northern Europe Giallorosso tournament where we hosted a fundraiser and every year we chose an NGO to donate the profits to. We have decided to become an NGO that is entirely linked to sport in order to give the children with lower income families the possibility to play football and have fun. We also support children with psychological problems".
Where did you and your club watch the Conference League final?
"Most of the club was in London. We broadcasted the match in our usual pub where we have been gathering to see the games for three years. I, personally, along with other members of our club, was in Tirana. Last Friday we organized the end-of-the-year dinner which turned into a celebration dinner for the Conference League victory. In Tirana, we lived it like all the Romanisti. Roma freed us from the captivity of a dream. We finally won a European cup. It was an unforgettable experience. Being there for a historic moment for the clubwas exciting".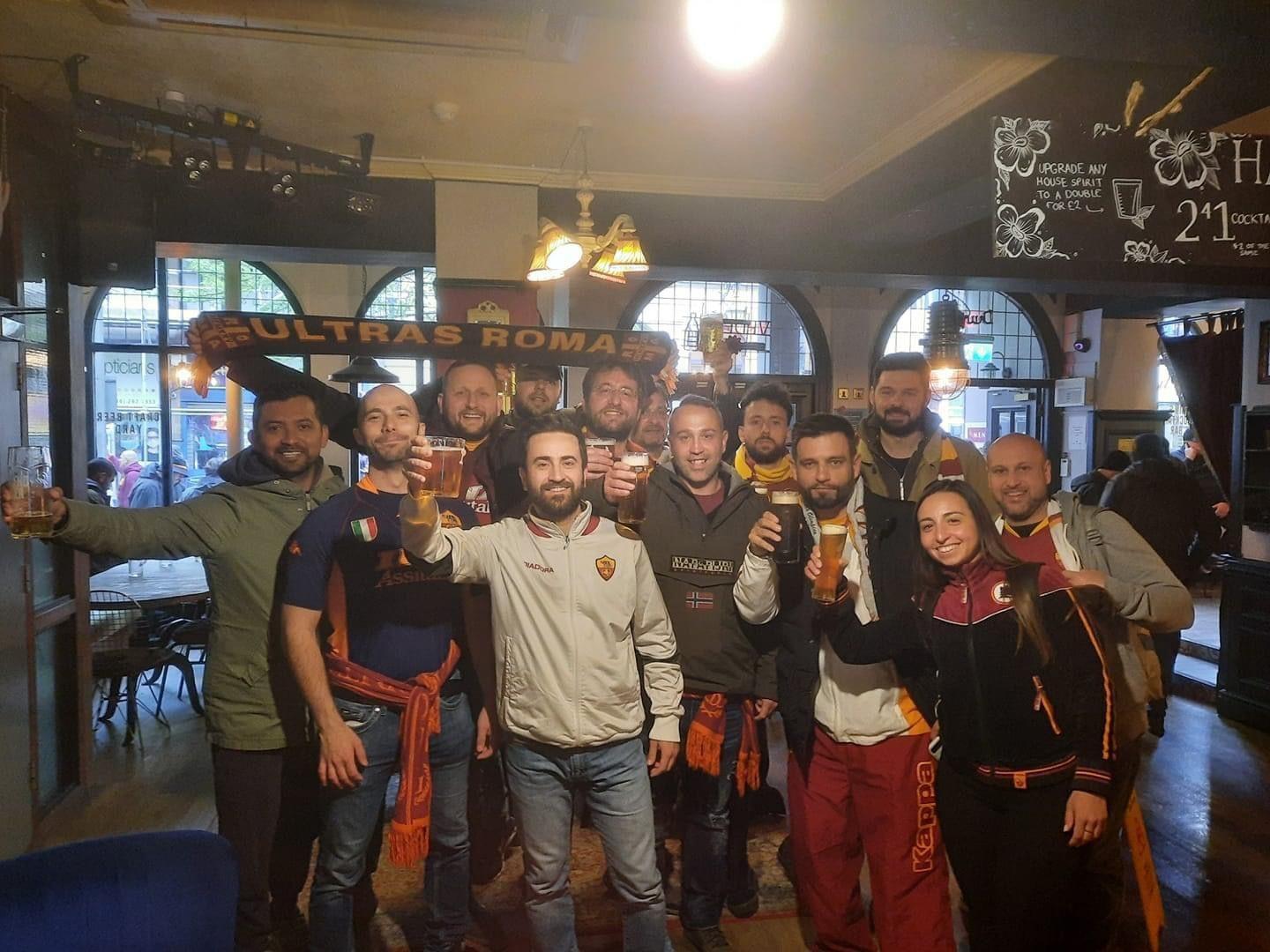 The "Lupi di Londra" in their usual pub for a Roma game
What do you think of Mourinho's season, and who gave his best performances in his opinion?
"My personal opinion about Mourinho, like most of the club members', is positive. He came here, he brought a different mentality, we saw a different team and he brought us a trophy. This is essential. We have had a final and two semifinals in the European competitions, and we won a cup, so the season is a 10/10 despite the ups and downs. There is no 'we could have done more'; we won a European cup. The best players for me? Certainly the captain, Lorenzo Pellegrini and also Tammy Abraham, they were the absolute protagonists for the whole season. If I had to choose a third name, it would be Smalling; after the injury he was fundamental".
Just this morning, Matic arrived in Rome. What do you think of this new purchase?
''We are happy because he is a winning player. We basically swapped with Mkhitaryan, who is the same age, but Mkhitaryan had to adapt to midfield. Now, we have a real midfielder, so we are all happy; not so much for the player himself, but for the company's ambition. Signing this type of player means that you want to aim high. I personally like him because that type of player was missing; we only had one in Cristante and now we have two".
Are there any names you are interested in for the new season?
"Honestly, I wouldn't be enthusiastic about any rumored names, so I hope that the club will continue to work as they have done until now; that is, to proceed under the radar and come out with a name that no one expects. Honestly, Cristiano Ronaldo and Dybala are great players, but I don't think they fit with the Roma project: to build a team that wins over the years. I expect a surprise shot! Lately, my dream (I can't call it anything other than that) is to get Son, the Tottenham striker. That would truly be a dream. There was also talk about Mertens who I would not mind".
© RIPRODUZIONE RISERVATA