the interview
The Roma Club New York: "Our headquarter was full to the brim for the final"
The president, Giovanni Peluso: "It seemed to be in the Curva Sud. Mourinho is a great coach, he always knows how to make you win. Zalewski is delightful"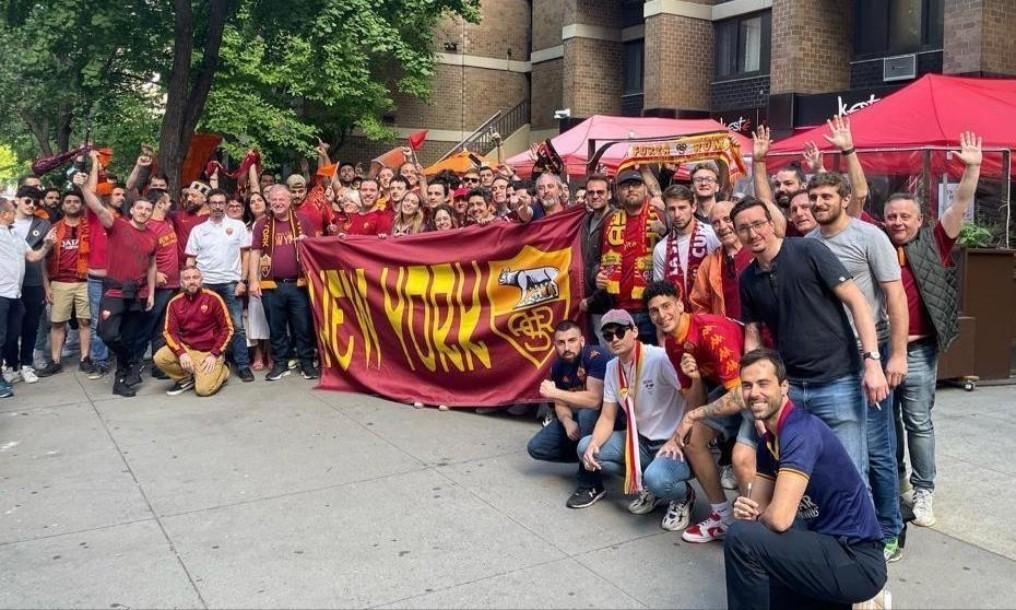 "We hadn't seen so many people for a long time". On the 25 of May 2022, Roma won the Conference League final at Tirana against Feyenoord. Every Romanista was waiting for this and people saw the match from all over the world. We interviewed the president of Roma Club New York, Giovanni Peluso, who shared with us his point of view from the Big Apple.
Where did you watch the Conference League final between Roma and Feyenoord?
"I was in New York. We saw the match at the club. We organized demonstrations, made two special banners and there were more than 200 people. The place was full to the brim. I've been there [in the club headquarters which is where] I prefer to see matches because I feel at home. It was totally a Curva Sud environment: a lot of people came, even new people, even fans of the Roma club that we hadn't seen for a long time".
What do you think of the relationship between Roma and your fan club?
"We were founded on May 15, 2008. I am one of the founding members as well as the president of the club, and we have always been affiliated with the UTR (Unione Tifosi Romanisti, the main organization of Roma clubs) and, therefore, we have always had relationships with the UTR and with Roma. The former owner Pallotta has often come to the club, including managers and players. For the years up until 2019, there was an international tournament called ICC, where Roma always participated and the last time, when the match was made in New Jersey, Roma used our club as a venue for the pre-game party, so the players came too. We have always had relationships; lately, I have also had relations with the new management, just in time for the Conference League final. They asked us to make a special video which they broadcasted before the match at the Olimpico Stadium".
What does it mean to you to run an American Roma club?
"Our club binds us particularly to Rome, even those who are from Rome have ties to America. We are a very active club and very visible. They told me that even at the stadium there were people with our caps, our shirts and scarves and this made us very happy. Clearly, it is something that is important to me. We feel very close to the city and to Rome, perhaps like everyone else, but living very far away for us is a moment of aggregation, like when we do post-match events or even regardless of matches".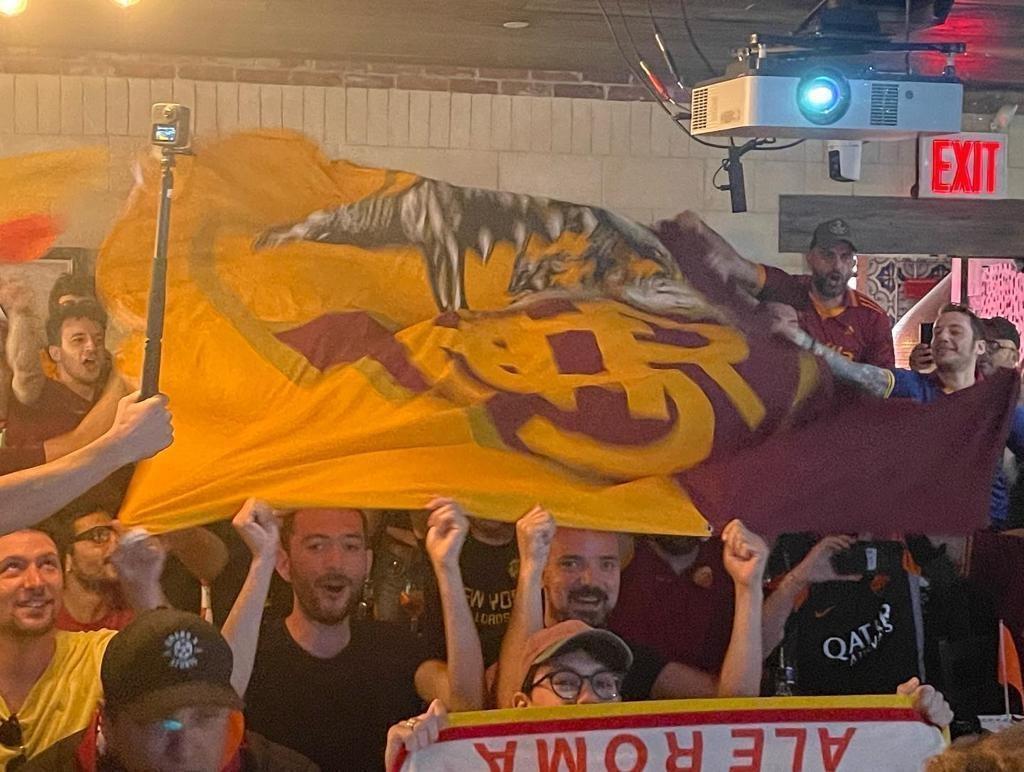 The inside of the club during the match
What do you think of Pellegrini, considering that he is the first captain to raise a cup after Totti, and what do you think of their relationship?
"I am very happy that there is a Roman captain, and that this captain has raised a couple. I am also very happy that Roma won the first edition of a new European cup. I think that this year Pellegrini has matured a lot in football and it is fundamental for us. He has earned the rank. Even on the field, I see everything in a positive way, especially the fact that Rome continues the tradition of having captains from the city of Rome. I must say I have grown up in Rome, since Di Bartolomei, Totti and Pellegrini started in Rome, at least in the spring season. I would say De Rossi too".
Who was the best player of the season?
"I liked Mourinho's words, when he said that everyone has won, even those who had not played for a minute; they are all important. So, it's hard to say for this season… one above all, considering the last matches especially the semifinals and the final, Chris Smalling was super and fundamental. Of course, I'd give all players a nine and him a ten. Clearly if I had to mention another name, I am delighted by Zalewski; he was a revelation and a very strong player. I really liked Abraham, who is a freshman. He silenced all the Dzeko orphans. I must say that I have always liked Zaniolo very much, and I continue to like him. I hope that next year he will prove to be one of the best again and hopefully the post-injury season passes, which was clearly the most difficult period".
What do you think of Mourinho's first season at Roma?
"He is a great coach. I think we owe a lot to the owners for this choice. I was very enthusiastic about him from the first minute. I never had any doubts, although there was a bit of controversy, perhaps a lot, during the first part of the season, but I've always been on his side. He is the coach who helped us win the Conference League; it's true, all the players are strong, but you need that little extra step that makes you win, and he knows what it is. He also knows what to do when the games are tough until the end. Was this season perfect? Definitely not. But it is his first season and these kinds of struggles have happened to everyone in the past. I remind you of Liedholm; in the first season they placed, perhaps, seventh place, not even sixth. I am sure with Mourinho in his second or third season, we will be much better".
© RIPRODUZIONE RISERVATA