VIDEO - All roads lead to Dzeko: discovering Edin's life in Sarajevo
An exclusive inside view of Edin's life, from first years in Sarajevo to the international exploit. His childhood friends tells us the life of Edin "Zvijezda" Dzeko
A climb. To reach the house where Dzeko grew up, in the district of Brijesce in Sarajevo, you have to go up a hill. Just as happened to Edin throughout his childhood, stolen from him and many of his friends by the civil war and secessionist conflicts that have torn the Balkans after the dissolution of Yugoslavia in the Nineties. Years of fear and terror that, between 1992 and 1995, when Dzeko was only a child, besieged Bosnia-Herzegovina, the native country of the Giallorossi's striker. The native country that he never wanted to leave permanently and where he will go back to live, sooner or later. The country that he has never betrayed, not even for reasons of professional opportunities, like when he was at Teplice and they offered him Czech citizenship and a "stronger" national team in which he could play. Yes, because we can live together with fear, war, suffering and, if we are (also) lucky, we can get out alive. And strengthened. Smiling, welcoming, sunny, like the many miss Sarajevo who walk, veiled or with the shorts, through the streets of the old town, between a Minaret and a Christian cross, between the smoke of the freshly cooked cevapcicici coming from the kafane (traditional local restaurants) and the one of the narghilè that you can comfortably breathe while drinking beer. And like the endless mountains that cradle Bosnia, making it rigid - not to forget - in winter, and stand out in the everlasting diamond that is its capital.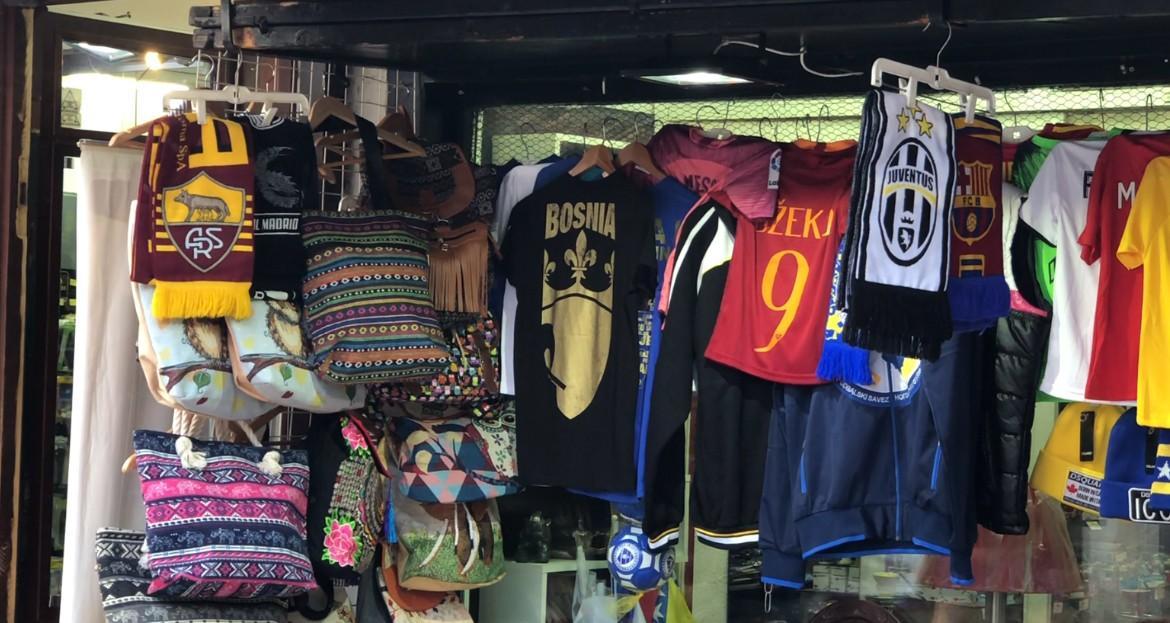 Dijamant, just like the nickname of Dzeko, mister Sarajevo. Who is not only the sportsman, but "the most popular personality in all of Bosnia", as the PR Jasmin Ligata says, his friend and collaborator for seven years. Ligata, as a hobby, plays futsal and "unlike Dzeko" knows "how to score upside down". To laugh. To smile. To welcome. So the new Bosnia has overcome the drama of reconstruction and Dzeko, for which it happened that important politicians quarreled the shirt, had a role in it: "After the war when they asked me where I came from, after my answer everyone was referring to bombs, to destruction. Now when you say Bosnia, you say Dzeko. He changed the history and the image of this young country full of souls and cultures".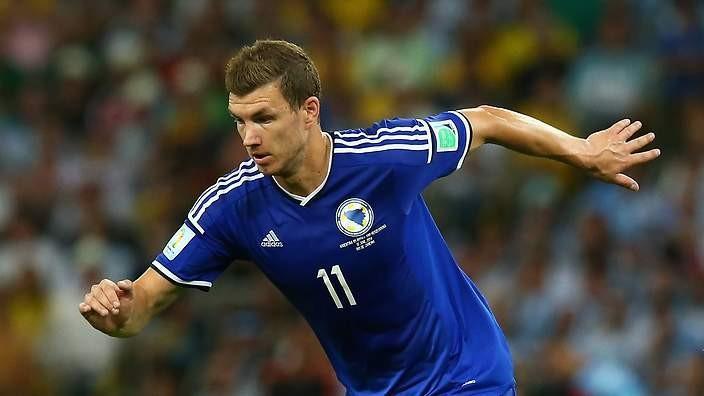 A star
«Zvijezda» (a star), replies Jusuf Sehovic, Dzeko's coach to Zeljeznicar, to the question: "What does Edin represent in your life and in your career?". A star, a talent: "He always had good manners" - the trainer remembers - "And he always remained to train more than the others. He was ambitious, he wanted to go forward, at all costs. He arrived when he was 9 years old, in 1994 we were not training in a big field, at that moment a new generation of players was needed, after a few months I realized that he was more talented than the others, with that physique he was able in every discipline, and I selected him. He had to work a lot, though, and he sacrificed himself. During the war we went to train and we had a great passion for football, every day we were not sure we would be alive the next day, we could die, but we were sure of one thing: we were going to train".
Hard times, in which the ball remained a reason for living and helped to remain human those who survived: "We managed to overcome many difficulties, thanks to Italy, a country that has helped us a lot during the war" - remembers Sehovic - "Soon, we went to play a tournament in Romagna, we travelled with the guys on a big bus. They only asked us about the conflict, they showed us how to turn on the lights, alluding to the fact that, in many cases, we did not have them".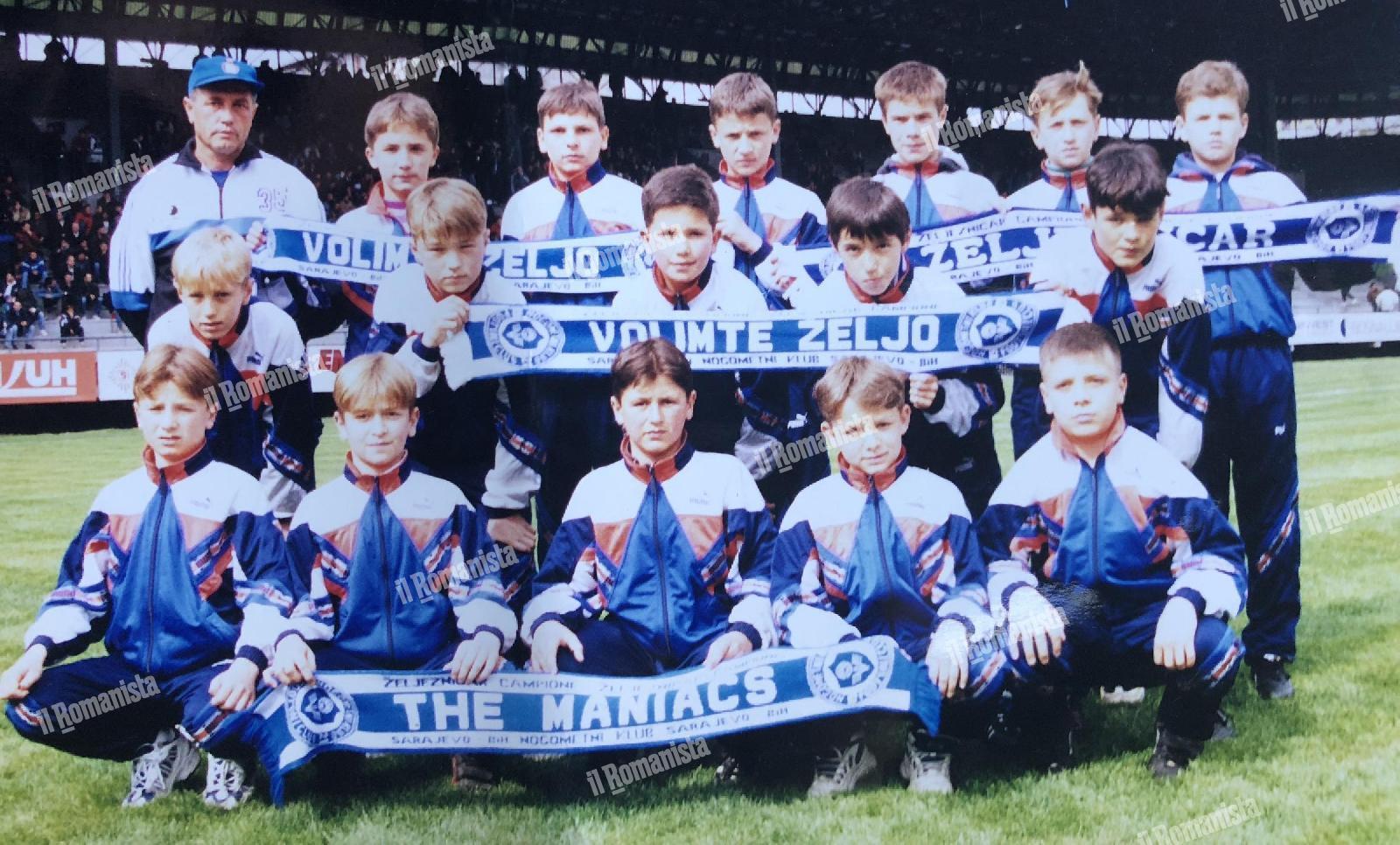 ll roads lead to Dzeko, a man so simple to seems to be shy, or rather reserved. Home, ball and family: "For this reason, he gathers" - explains Jasmin Ligata - "For this reason people love him". And this is the important thing. He has the face of one who does not betray. Normal, for an Unicef Ambassador. Serious and professional, husband and father, bomber and assist-man. Now, for the first time in his career, he is also the testimonial of the Bosnian provider Telemach, and his face heaps on billboards of the whole nation. "Too good?" They said of him. "No way! He is competitive at the highest levels, in everything he does, even pwhen he plays with friends" says Ligata. "«Gnawer»? Yes, exactly, he is a gnawer. But you cannot become Dzeko if you're not like that, with the kids he melts, he makes them win, he's good and he's always available, even if there's a problem. Everyone must have a second chance, but if you mistake a second time he will cancel you". Everything but «too good», then: "Right and determined" - continues Dzeko's PR - "Who says it, for example Spalletti, maybe was an excellent psychologist for Edin, because he answered every little punch by scoring". "He's too good for soccer, he's a good boy. But the fact that he is so dedicated to the team it is just a quality, not a defect. He would be criticized if he was too selfish", adds Sehovic.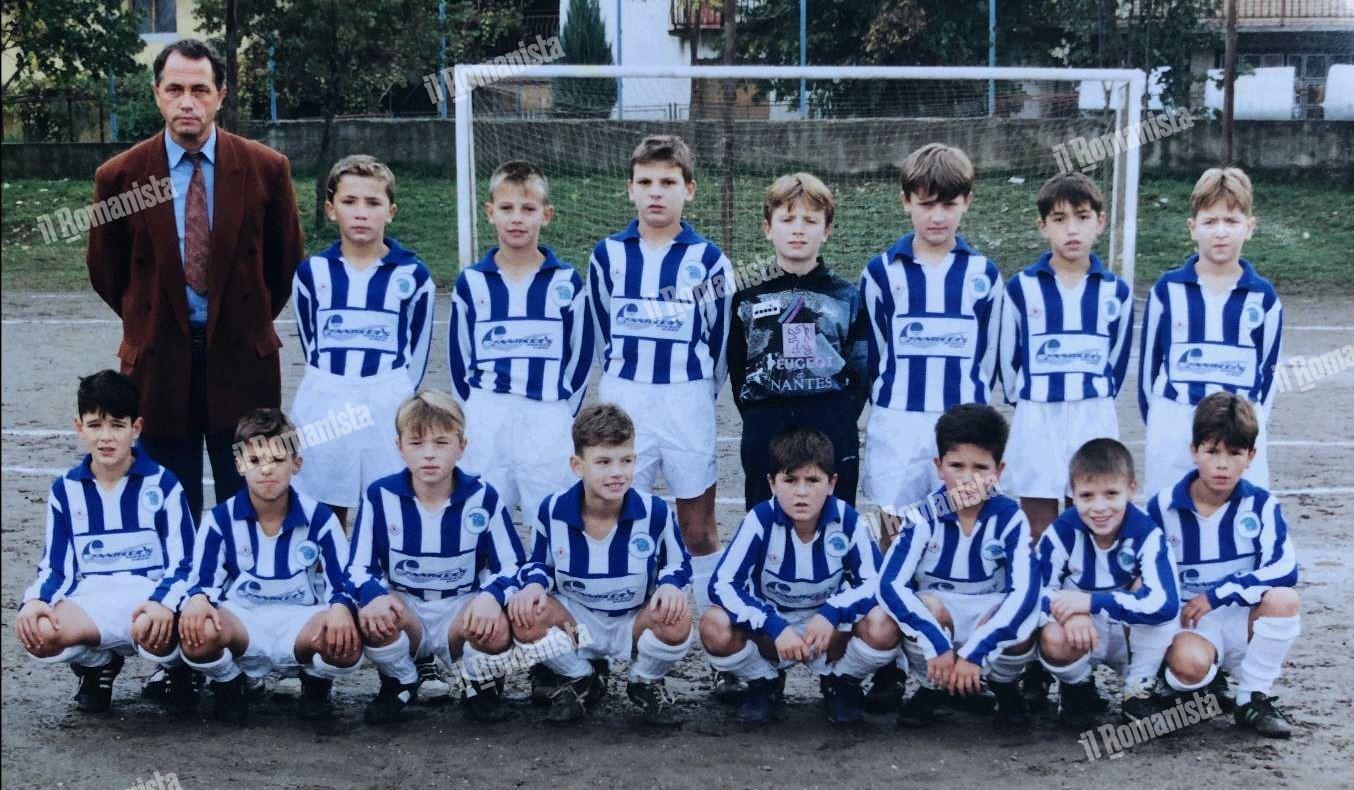 A picture of the young Edin Dzeko (fourth, starting from the left, crouched)
Home Sweet Home
With Sarajevo Edin has a symbiotic relationship (after Japan, he spent his holidays between his house and the Croatian sea of Dubrovnik): "He did not even go away when ther was the war".
"He always comes back in continuation: with his body and his head he is in Rome, but with his heart he is always here. In Italy he can not go out for a walk downtown due to the heat of the fans, maybe he has done it three times. Here it is different, however popular he is, he attracts boys and children. The fans, however, give more trouble to those around him than to him... He is always available and without time limits".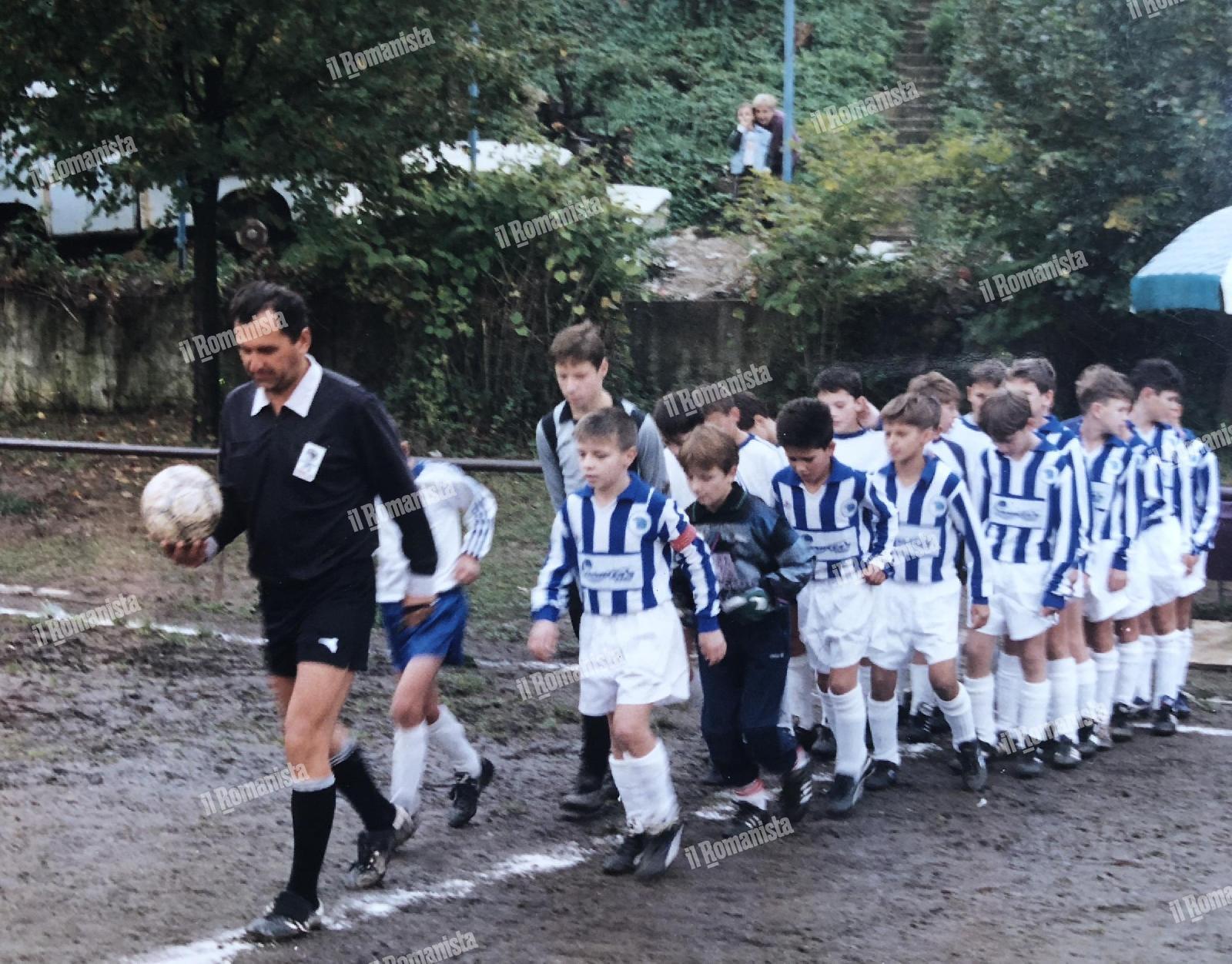 And in Sarajevo, exiting a little from the center and going to the West, towards Italy, there is Otoka, the district of high-rises where, during the war, Dzeko moved with his family. At the grandparents' house. Closer to the Zeljeznicar stadium, Grbavica, which "took us an hour to reach it from Brijesce", says former teammate Mirza Trbonja in the pub outside Otoka, where Edin still stays with his old friends when he returns to home: "We went to school together atZeljeznicki skolski Centar, I played as goalkeeper and he was the striker. Like Holly & Benji (he laughs, fn)... If I took five goals, he made seven and there were no problems. Once, he had not been at school for a week and I went to his house to see how he was feeling, in his room there were game uniforms in a corner: he told me that he had gone to train for the first team. It was around 18:00 and he asked if I would be able to accompany him to train, despite being ill he wanted to train twice. I've no longer seen this passion in anyone else". Mirza speaks at least once a week with Edin, when the number 9 passes through his city, however, they always meet: "We have two girls both, today he is a person even better than before, for us. This is his quality, he has remained grounded despite being the idol of many. If he is a star in Rome, imagine here". Edin «succeeded», as a man and as a professional, «he is a Bosnian miracle». Dad Midhat, who has always supported him in his talent, and mother Belma, who had saved Edin with the sixth sense of the mothers from a grenade exploded in a children's soccer field, forbidding his son to leave home, and who, when Edin went to England and became famou, worried about the people who would go to see his son: friends, girls, people who could exploit his «sensitive boy».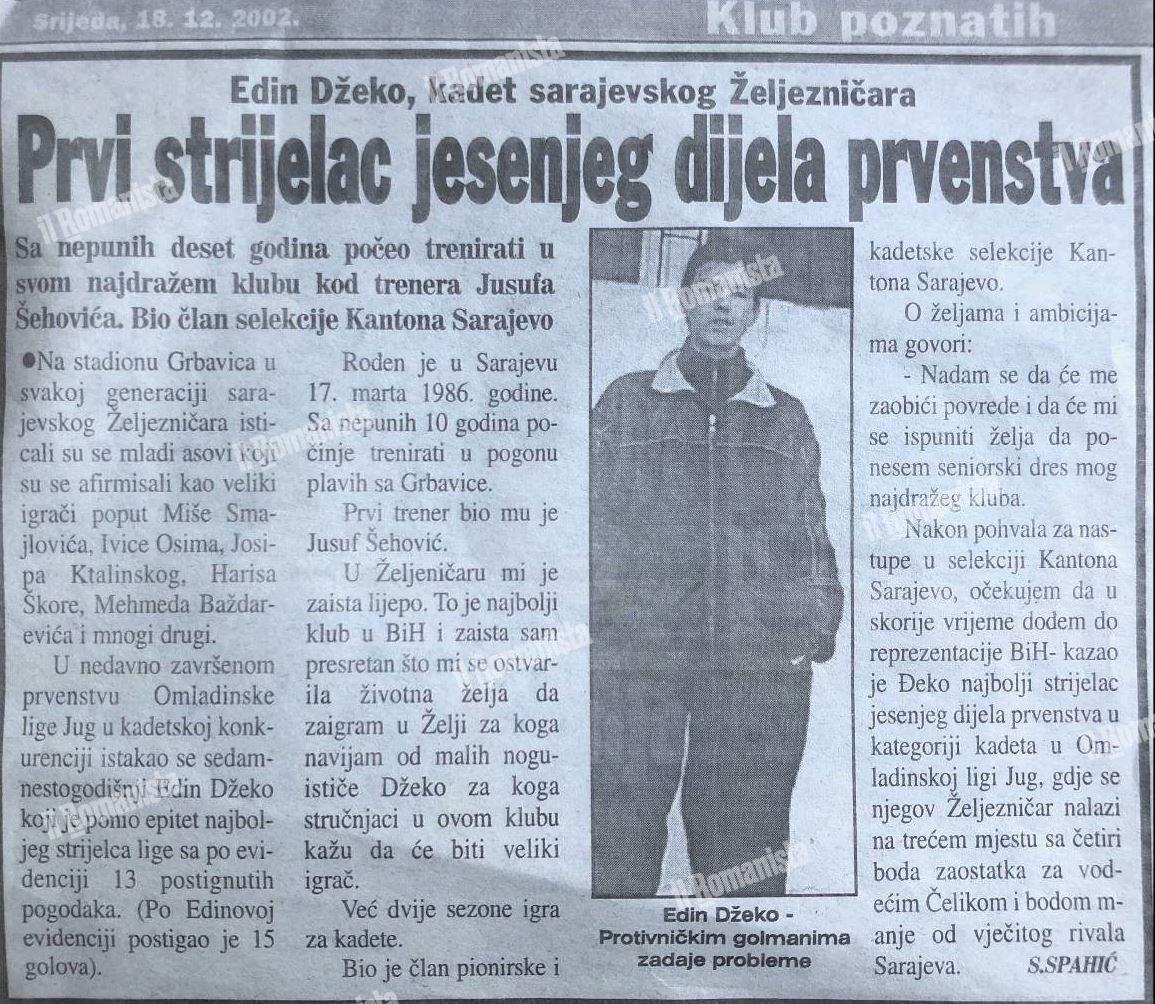 One of the first articles dedicated to the young Edin Dzeko
The right choice
Edinsensibile, but he always goes on his way, even when things are not going very well. "He has always and only cared about the field", even when things had not been put in the right direction in Rome, he never gave too much weight to the criticism of some fans, he had the confidence of the trainers. Not fools. "And it is not true that they called it cloc (literally and vulgarly "stick", one of those used to block the wheels of the machines, fn) to contest him when he struggled in the first seasons with Zeljeznicar. It was a fact related to the physical aspect, because Edin was tall and thin", explains Dino Muharemovic, another Dzeko's former teammate, coached by Sehovic, who started with the striker of Roma, "when we played on fields of dirt floors, we did not have the grass, but if you learn to play in those fields, you can play everywhere. My best memory? When in the youth teams he scored four goals against Sloboda and a derby (highly acclaimed, «like Roma-Lazio», they assure) with FK Sarajevo (Dino scored, Edin remained dry, ft)". Dzeko certainly was valid and to emerge there was really no choice but to leave: "In Bosnia there was not much opportunity to emerge" - explains Jasmin Ligata - "Many talents, but insufficient structures". Going to Czech Republic, to Teplice (and to Ustí nad Labem, then), was the "best choice he could make, it changed his life", confirms Dino. It made him shine. He always maintained a propitious star in his decisions, even in that - for which he certainly struggled until the end - "to stay in Rome and not go to Chelsea", they all say in chorus, Dzeko's friends.
«At Wolfsburg Felix Magath (who for Romanists was already happy in name and in fact, as I remember, fn) believed in him after the first year in which, as always happens to Edin, he had adapted. Magath taught him to be a soldier in football", explains Ligata.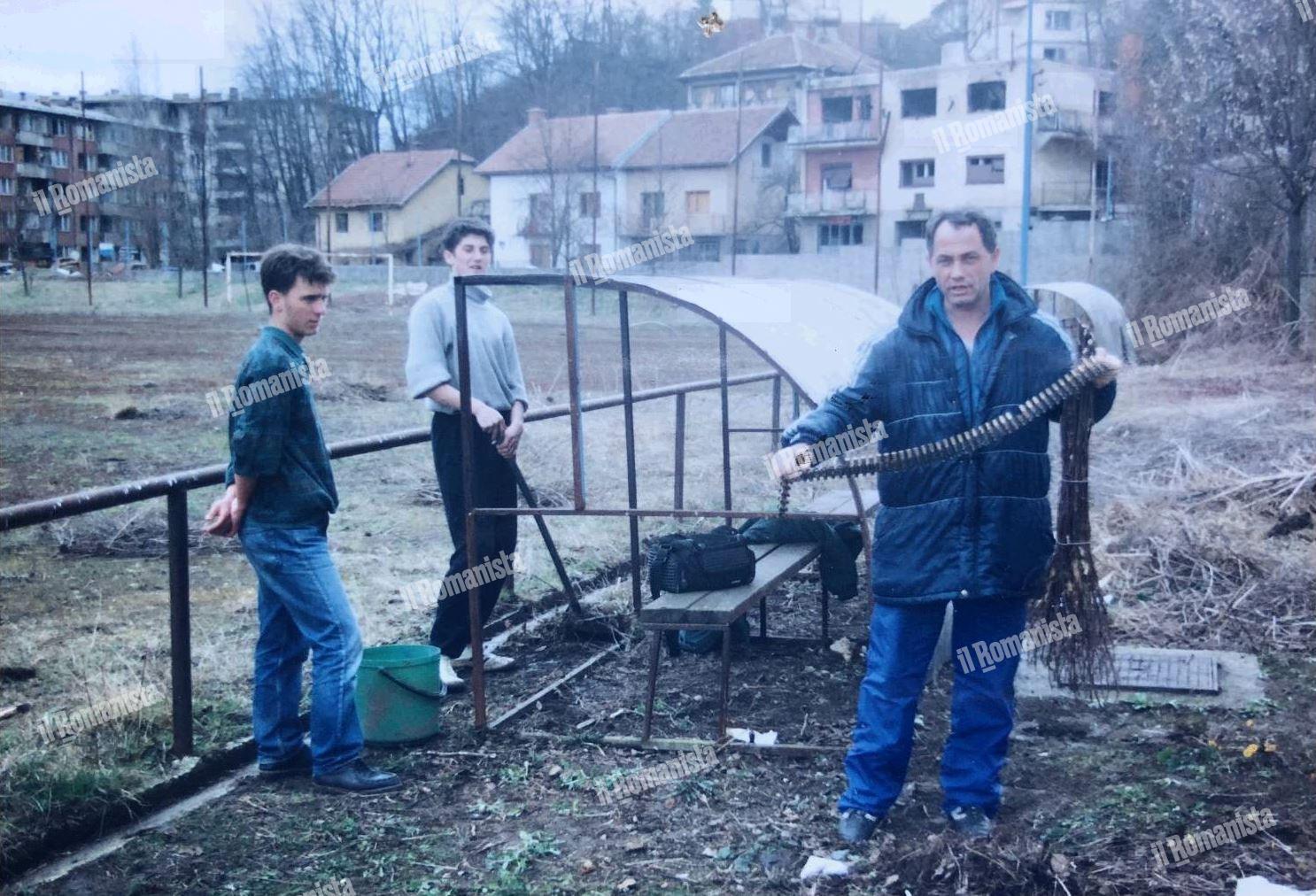 Mister Sehovic at the training camp, soon after the end of the war
Edin Supporters
"The passion for Dzeko is fundamental, he could not play in places where there is no heat", his friends say. Now friends are his first fans. It is no secret that, as a young, Dzeko had a sympathy for Milan: "I remember" - said the coach, Sehovic - "When the Rossoneri asked for information on Edin, because he reminded them of Schevchenko, who was an idol. In 2008 in the UEFA Cup there was Milan-Wolfsburg, Sheva gave him his shirt and he immediately put it on".
"Edin is a team man, sometimes too much" - according to his friend Mirza - "I remember for example a game against Spain and he had the ball and he could go for the target but passed it, that action was sensational. With Totti he would have scored even more. If they had played more seasons together they would have been better than the Totti-Batistuta couple".
And, as good friends, they are all divided on the best goal, but united on his best seasons, those in the Giallorossi: "The most spectacular goal was that against Borussia Dortmund when he was at Wolsburg. I remember them all. I could make a film of all the goals in his career..." says Mirza. "The last season at Roma was very good, but the best one was with Spalletti. His best goal is with Chelsea in the Champions League", says Dino. "Every goal in the career is the best, because you learn and improve from it", concludes Mr. Sehovic.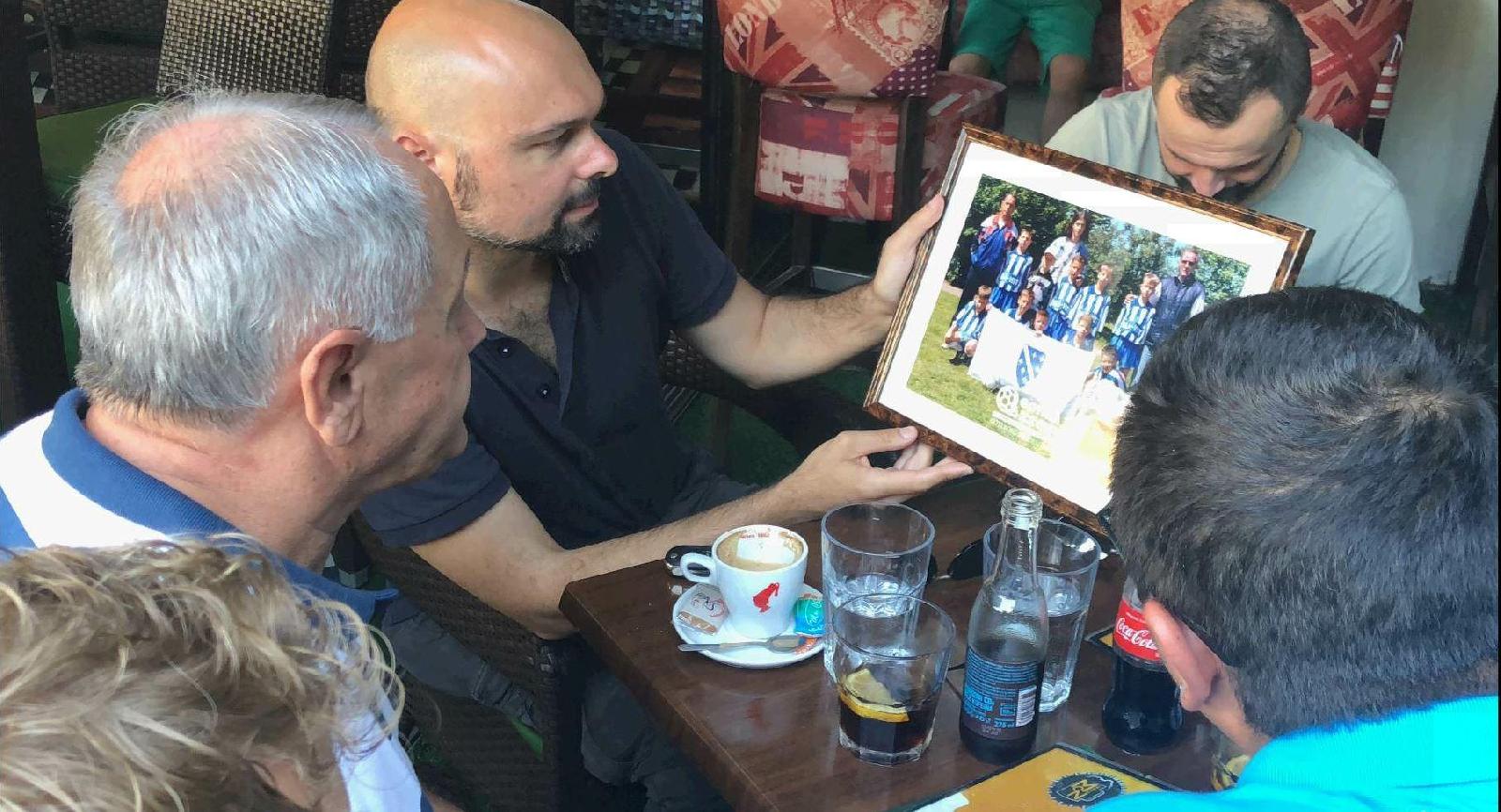 Gabriele Fasan in a bar with Dzeko's childhood friends
After football, soccer
Dzeko loves Rome and Italy, the sun, he played in Germany and in England, but it is better in our country. Here he had two sons, he will remain still. Perhaps not forever, as a good son of Bosnia. But, even remotely, the thought of what will happen after football must have touched a "squared" professionist like him.
"From time to time he said «I'm too calm to be a coach», but now it's different. He has grown. He understands tactics, especially after years in Italy", says Ligata.
"If he could finish his career a little further back, like a playmaker? He's good at assists, so he could, he already does it" - it's the opinion of his first coach, Sehovic - "On the future, I would like him to win something first with Rome and then go to Spain. I would like him to end in the Spanish Liga, I think it's his football. Last season I thought that the victory with Barcelona was the highest point he could reach. He will certainly remain in football because it is the passion of his life. And he can be successful in any role. As a coach? Also...". And he would have a good advisor. Who has seen, first, that star shining at the bottom of Edin Dzeko's heart. But if only for a moment he could have him beside him, what would he say to him now? "I wish him good health, for him and for his family. And to start the new season as he finished the last one".
Translated by Andrea Lambertucci
© RIPRODUZIONE RISERVATA