the interview
Roma Club Dublin: "Mourinho is divine, Pellegrini is our leader"
"The Conference League night was incredible, the triuph gave us so much pride. Being a romanista abroad makes you feel so close to the team and the city of Rome"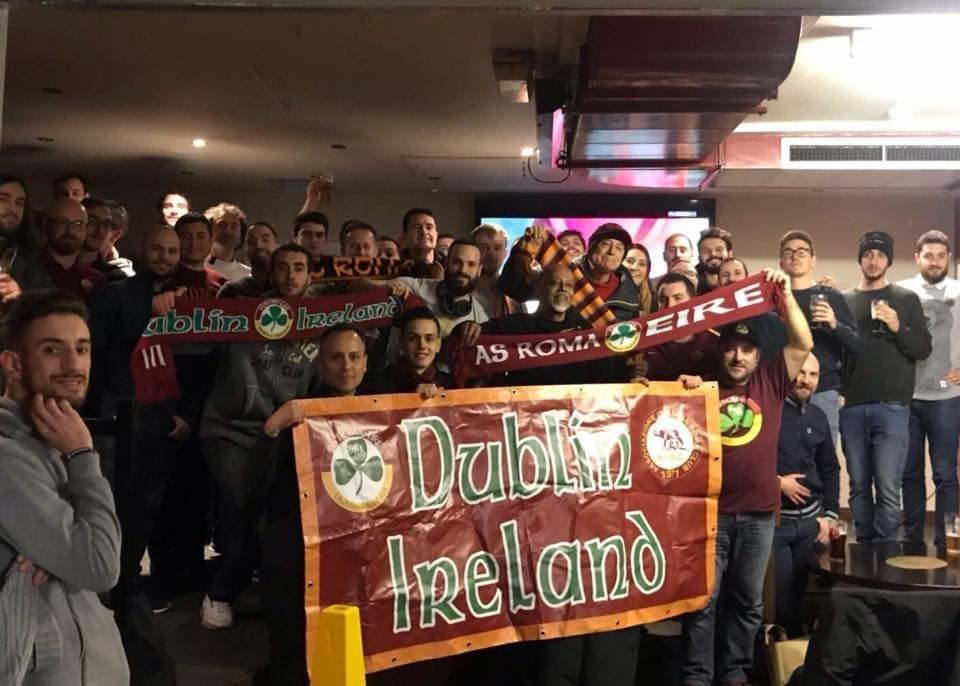 "Roma will keep growing with José Mourinho". After the european triumph in Conference League, we speaked with the Roma Club Dublin to discover how Ireland's Romanisti felt about the win, the season and the future of the team.
When and how was your club born?
"Our club was born on August 1, 2014; it was an idea born in the summer, when the championship was almost starting. Basically, the Romanisti in Ireland, particularly in Dublin, have always been quite numerous; there are those who watch the games in pubs, those who are at home with friends, those who have Sky subscriptions. In short there are many of us, but everyone was somewhat independent until I came up with the idea to develop this project to bring everyone together and cheer [on Roma] under one roof, and, so, I decided to create this club. I made arrangements with a pub where we negotiated discounts for members, so from there we developed [the project]. Now, there are several of us. This club has always drawn attention from all the Irish people who used to come and visit us during the games. We've always been about 70-80 members (pre-pandemic) with the Irish people who are [usually] with us all the time, watching the games even during away trips. We do almost every away game in Europe. Then, clearly when we can, we go to the Olympic stadium with a banner to cheer for Roma, even for home games. There are about 15 Irish people who are very active and also go to the stadium in Rome on their own. They know very well how to get around, so they are an integral part of our project. We do different initiatives outside the club as well: soccer tournaments, social evenings... and also charity. We work as hard as we can because this is a club run only by five people: me, who is the president, and four other staff. We divide the tasks and try to carry out the projects in our own small way, but because we all have our own needs, family, home, work and whatever else, we try not to take it too seriously and we count on the fact that we are all one big family, as Jose Mourinho says. We like to be together and have fun. The important thing is to be together and cheer for Roma".
Where were you when you watched the Conference League final? Were there any memorable celebrations?
"Unfortunately, we couldn't go to Tirana because of tickets. We went out of our way to look for them, but we couldn't find them. We were very disappointed because we had already booked the hotel and plane, so we had to cancel the plane ticket and the hotel reservation. We were very upset. Here in Dublin, though, we arrived en masse; it was an unforgettable evening anyway with so many fans, including Irish fans, watching the game at the club. Even non-members [were watching]. There was incessant cheering for 90 minutes, beer splashing all over the place and there were celebrations both in the pub and outside. Once the celebrations inside the pub were over, which lasted quite a while, we all poured into the street, made a mini procession to another pub, and spent the whole night there. It was an unforgettable evening for every Roma fan. It was an exceptional thing because it had been 60 years since we had won an international trophy; Roma remains the first team to have won this European international cup, and now we are also the last because we are the only ones to have won it. [It gave us] extra pride and a feeling we haven't had for a long time, so we all went crazy with joy. In fact, I think it is an emotion we will carry with us for a long time".
The road from Tirana to Dublin
????☘???????? ????YouTube #RomaClubDublin ➡️https://t.co/P3AlYrRsHH

— ÈIRE ???????? ???? (@ASRomaIE) May 31, 2022
What do you think about Jose Mourinho?
"Look, I have no words. There have been controversies within clubs and with fans when the team was not doing very well. [There were also those] who dared to say that Mourinho was not the right profile for the job. I always defended 'JM' to the end, even when things were not going well. I always said that he was the only one who could take us to a higher level, that we had to be patient, that he is a coach of a certain caliber who has won so much and that we Roma fans cannot afford to criticize him for a few games that went wrong. We had to have confidence, and I always have. If we look at the bigger picture, we see that a coach, who has been here for a year, has brought home a trophy that has been missing his whole life, so praise to Jose Mourinho; the divine Jose. He is one of us. He has also shown [he is the right fit] with the affection he has shown us. He himself said that winning in Rome is something else; it has another flavor. Winning the Champions Cups with Real Madrid, with Chelsea or with Porto is not the same thing because they are teams built to win. This team was not built to win and he won, so hats off to a coach of great competence and humanity that is Jose Mourinho. I've always defended him and I'm glad I did because we've seen what he's been able to do and we're going to [continue to] see some good things because I foresee a Roma team of great growth with Jose Mourinho".
Who is the most appreciated player of the season?
"I could state the obvious ...Lorenzo Pellegrini is our leader on the field. He is the natural heir to Francesco Totti, although clearly we cannot compare him to Totti yet, but I hope we can. We can say that Pellegrini is our Mourinho on the field. Also, I was happy with Smalling's season, especially when he recovered. He showed that on defense he is in charge; he is a security. But if I have to say one player who impressed me because I didn't expect it, and who was another hit from Jose Mourinho, it is Nicola Zalewski. That's because Zalewski was on the bench from August until January, like all youngsters, until Mourinho put him on the field when he saw fit, showing that this guy has great stuff, great talent, he's jova sanissimo. I didn't expect him to be so strong".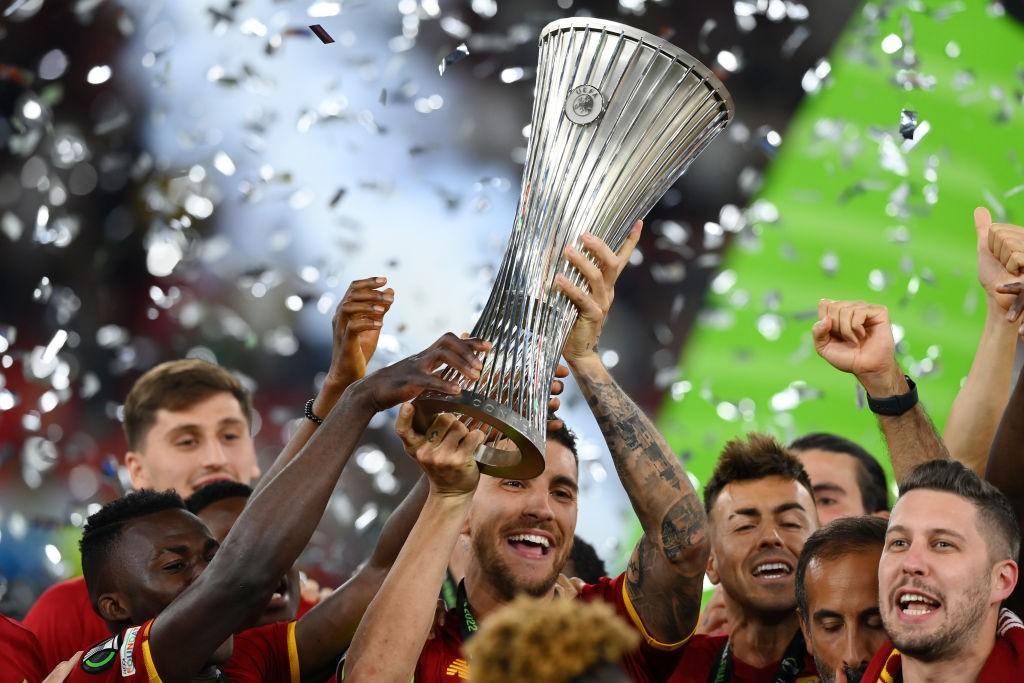 Pellegrini lifting up the Conference League's trophy in Tirana (As Roma via Getty Images)
What does it mean to you to be the president of a Roma club in Ireland? Do you still feel close to the team?
"I think those who live abroad feel even closer to the city and the team. It's like when you get up in the morning and you have the Colosseum in front of you, you don't even pay attention to it anymore because you were born there; you see it every day and walking past it is like walking past any other monument because you live in Rome. But, when you are abroad and you show up in Rome in front of the Colosseum, you are filled with pride. The same thing goes for the team. We feel it maybe even more because this distance makes us feel even closer to the team, the jersey, the colors and the city, so from this point of view we are fierce. As for being the president of this club, it is a great pride because, I repeat, it was my idea, but without the fans there would be no club, so I am grateful for those who believed in this project. The great satisfaction comes when fans come to see me even from Rome and maybe stop by to watch the game. When people thank me because thanks to me they can watch the game in an environment that feels like being in Rome. These [gestures of gratitude] give me great pleasure".
What do you expect from the team next season and to come from the soccer market?
"I expect Mourinho to take care of the market, because this year the market is organized, so I expect Tiago Pinto to listen to Mourinho because he knows how to handle these situations. He knows how to take the team to the top and he knows what he wants. Mourinho has planned everything down to the smallest detail. I trust what Jose does, in the sense that, whatever he does, I will always support him, even if it should be something I would be sorry to see [later]. However, if he feels it is appropriate and necessary to make sacrifices, I am with JM. I will support everything he does from here on out. I hope he gets those starter replacements that are necessary to make the leap. I expect two or three midfielders, a central defender and a striker, who need to take Roma [to a] higher [level]. I expect two or three main shots and a few minor shots".
© RIPRODUZIONE RISERVATA