number 59
Nicola knows how to do it: Zalewski, Mourinho's winning bet
From the Under 10 team to Tirana in just over a year. He became the revelation of the season, remaining the fan who sings Curva Sud's chants on the pitch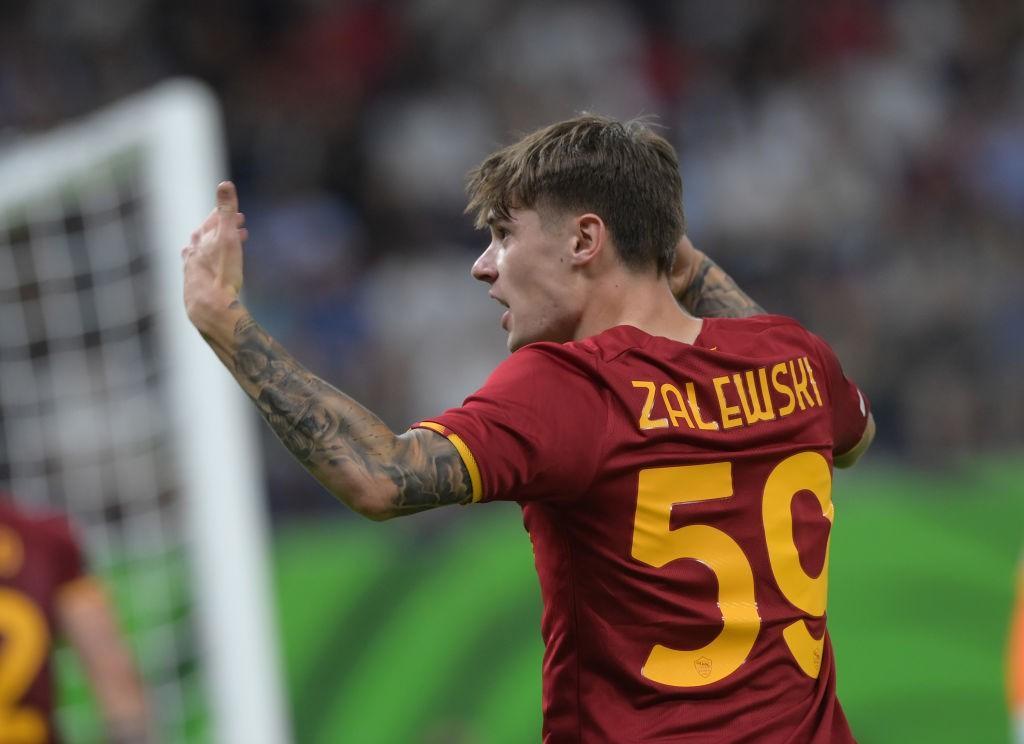 A video was posted on social media the day after Roma's triumph in Tirana, capturing Nicola Zalewski's joyous singing. In the video, the twenty-year-old Pole (although he was born in Tivoli) stands with a yellow and red flag in his hand (or rather, he only held a stick, but the gesture of a flag still counts) on the field of the Arena Kombëtare, singing the historical chant "Campo Testaccio" under the cheering sector of the Giallorossi fans. He is one of them.
Around his neck he wears the Conference League champion medal he just won in the final, and in Zalewski's eyes (as well as in the eyes of Bove who is singing with him) there is the joy of a little boy who just led his favorite team to a European victory as he shouts "Roma! Roma!". At the end of the historic anthem, he sings to himself in gratitude for everything he has accomplished this year: becoming a fundamental resource for the team during a long and demanding season. He was Roma's most beautiful discovery (same for his national team that he made his debut for in September).
Visualizza questo post su Instagram
He is not "only" a Roma player on the field, but a Roma fan off the field, too, something that the Giallorossi fans are historically accustomed to while that usually isn't common for other teams. Zalewski was the best example of a player who was dedicated to Mourinho's cause, one that he asked all his players to embrace, and also of having the ability to get involved as a player while maintaining the spirit of a young Romanista kid (an instinct that led him to pour beer on Pellegrini's head during his post-Feyenoord interview and then be embraced by his captain, a Romanista himself and almost an older brother to Zalewski). All these characteristics, along with the undeniable technical qualities, attracted the attention of Mourinho. Number 59 made his debut with Fonseca on 6 May 2021 in the Europa League semifinal against Manchester United, but with the "Special One" he found a completely different side of himself.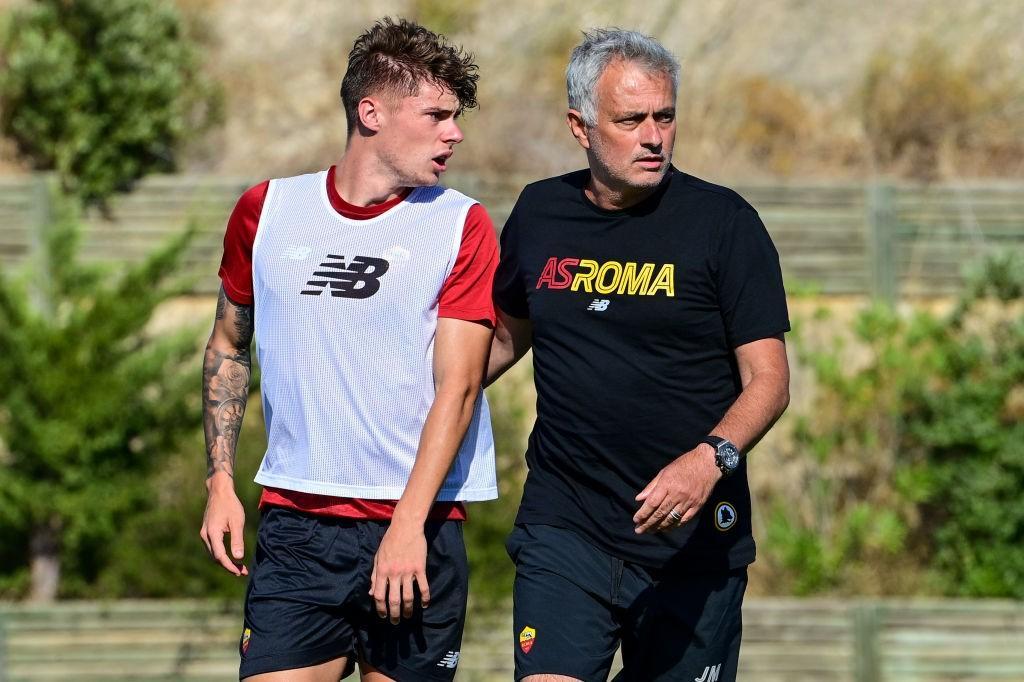 Mourinho e Zalewski in training at Trigoria (As Roma via Getty Images)
The Roma coach often called him "the child", referring to the extraordinary nature of a young talent, who arrived in Trigoria at the age of nine, grew up in the nursery and was able to seize the opportunities that Mourinho gave Zalewski after "inventing" him as a left winger. Zalewski was an attacking midfielder until a few months earlier in the Roma Primavera (Under 19's team) where he had worn the number 10 on his shirt, but in Rome-Verona on February 19, the "Special One" threw him in the game as the starting left wing instead of Viña. From Mourinho's tough love on Zalewski and goals from the other two young players, Volpato and Bove, came a draw for who would start, but the Pole started to prove himself over his competition, becoming a starter in the 3-4-1-2, with Karsdorp on the other side. He worked in silence; his speed and ability to go one-on-one with his opponent on the flanks became lethal on offense, once again demonstrating his devotion to his jersey, as if making himself available to his coach for the derby in September despite his father having passed away a few days before the race wasn't enough proof. Although facing a tough personal loss, Zalewski decided to be there for his team and in turn the team was there for him on the day of the funeral, like a real family. Zalewski got used to playing that role rather quickly, displaying a personality and responsibility that went far beyond what his team and fans might have expected from someone his age.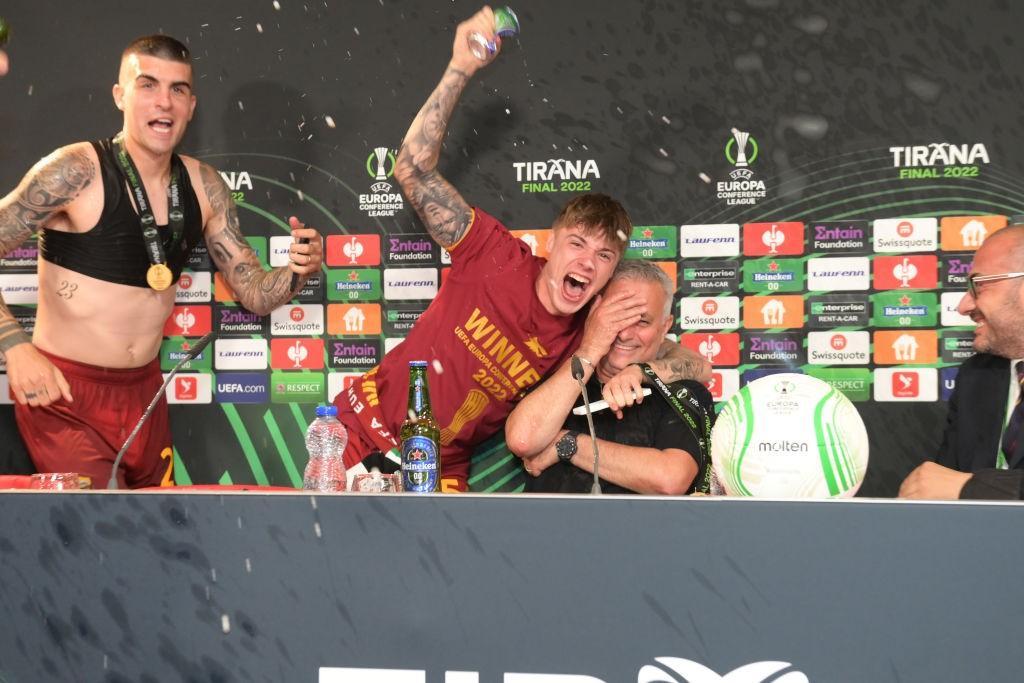 Zalewski with his coach after the triumph of Tirana (As Roma via Getty Images)
Bet, won
After a few matches, Zalewski proved his sharpness on the pitch and Roma knew they could count on him: starting from the match with Verona, he played every Serie A game, contributing to a no-losing streak all the way to qualification for next season's Europa League. Even in the Conference, he became essential; he was a starter in all the matches and provided two assists (one to Zaniolo against Bodo and the other to Pellegrini at Leicester). Today, Zalewski is a bet that Mourinho won and an important resource for the Giallorossi future. Nicola knows how to do it.
© RIPRODUZIONE RISERVATA