on this day
June 14, 1942: ''Roma is the champion of Italy''
A banner appears in the stands, it's written by the Lalli brothers and because they are deaf and dumb they shouted the unspeakable happiness of an entire city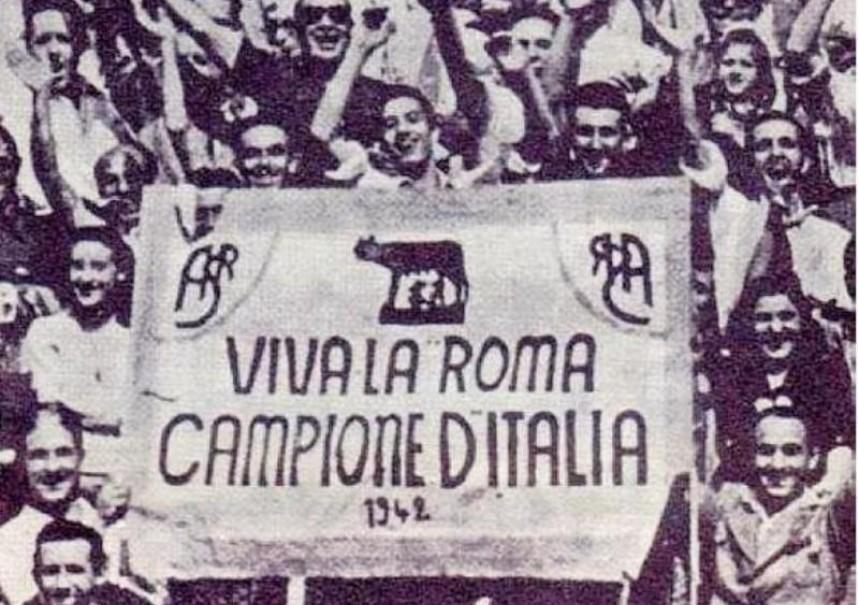 Joy makes a lot of noise, it's true, but perhaps this kind of happiness can't be explained. After 41 years we won the Scudetto in Genova on May 8, 1983 and the day after the Corriere dello Sport headlined "A scream: Roma". It captured both the silence and noise of forty-one years. Finally, after so many lifetimes (there are many, certainly more than one in 41 years) Roma won the Scudetto, and that scream was something we could not have fathomed, carrying with it all that Roma had said and hoped for for years.
A scream: Roma
The picture was of Liedholm being carried on fans' shoulders after being hugged by Geppo. In Genova, it was 5:45 pm. It was our time. How many hours are there in 41 years? It was certainly a special moment: The hug between Geppo, the poet of the Commando Ultrà, the boy who writes to Guerino that "perhaps he is a hooligan because he thinks too much" and the Baron, takes all those hours spent, lost and dreamt of worth it because this is the most beautiful image of Roma Campione. The baron and the ultra, the coach and the fan, the aristocratic and popular Roma all in one shot. Everything. That picture was a scream, too.
We weren't able to scream for 41 years. Now, that scream continued the echo of another one that had never died and had been put in writing. Indeed. The Romanisti are poets. Forty-one years earlier in via Flaminia, Roma had won their first tricolor for the first time in forever; 41 years before there was already a 14-year drought (no, the numbers aren't switched, it's the truth). Roma was born against the power of the North, of Juve, of Inter, of Milan, of Genoa, of Pro Vercelli, of Bologna and of Torino, all of which had always won including Novese and Casale, which were the first queens of the northern round and then of a national round. Never before had anyone ever come close to winning a real tricolor outside of that circle. Roma was heterodox. It was a heresy for them. A cue for them. It was born on purpose; not to win, but to challenge. To scream and shout: Roma.
Roma was born in opposition, and already in those 14 years they deserved to become champions. It was about giving a new meaning to football in Italy and not only that. There had already been ocean transfers, there had already been all of Testaccio (1929-1940), a dream, a city, a stadium. The Roma fan was born with Roma in his blood, an epiphany and at the same time an expectation. There had been Viola who brought his bride from Pontedera to Livorno by bicycle on an almost decisive trip to that championship of '42. There was the young Egidio Guarnacci who, at the age of eight, went to the stadium to see Rome accompanied by a waiter from his father's restaurant in via Borgognona. There was Masetti, a captain, who as soon as he arrived in Rome had seen the sea from San Pietro and who would return to see it in Genova on 8 May 1983. There was Amadei, a bicycle-bearing striker. There was no Cerretti, the Angiolino of Rome, who was the one quoted by the Sud with Gent ("Weed flower does not live in the yellow and red jersey those who have a hidden core") and also the man, not only the masseur, of a lifetime who had recently gone to the Russian front: he would return and would not say a word about the war in Russia.
Joy makes noise; horror silences you, but when he dies his coffin, he will parade in Testaccio: home. There was no longer Omero Carmellini, who in Russia will lose his toes on his right foot after playing a year with Roma. There were the populars, the stands, the barons and the Geppos. All of the stands were full of strange, happy and unprecedented anticipation on the morning of June 14, 1942 against Modena. Roma was in the lead but they just had to win to be safe. There was Roma, and respect it when someone takes the liberty of saying something about this huge Scudetto that was won on the last day against Torino which would only become great after this Scudetto. We won the first tricolor under the gothic line and we were the last team to beat the Grande Torino. Respect the story. Respect the people who have always supported Roma. Respect those who were Romanists before us and therefore made us Romanisti.
They were poets even on a banner. There was one that day, June 14, 1942, and when the banner was exposed, there was a moment of silence; There it was written "Roma Campione d'Italia". It was a shout. The brothers Francesco and Gioacchino Lalli had prepared it. Two Romanisti. They lived in Centocelle and that day they took the tram to Porta Maggiore, from there the bus to Piazzale Flaminio and finally traveled on foot to the stadium. That day - June 14, 1942 - was the day of the Roma Scudetto. When they unrolled the banner in the stands, the stadium applauded; that banner expressed on behalf of a generation an emotion too great to put into words. For Francesco and Gioacchino, it was literally like this; they were deaf and dumb. They wrote what they couldn't scream. Joy makes a lot of noise, but Rome cannot be told. It's that scream you feel inside of you.
© RIPRODUZIONE RISERVATA