the interview
The Roma Club Düsseldorf: "We live for these colors. Dybala is a dream"
Club President James Amatulli: ''Last year we brought home the Conference League cup. We are happy, hoping to bring home the second trophy in a row.''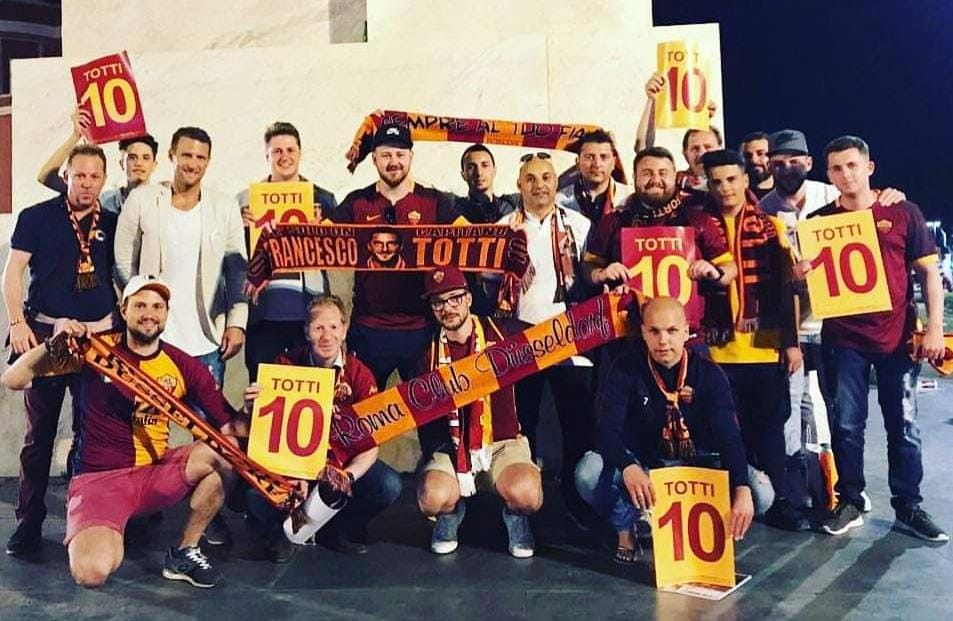 20 Settembre 2022 - 10:28
We interviewed the president of Roma Club Düsseldorf, Germany's most exclusive romanisti's club. James explained to us with extreme pride how for them Roma is a family and a chance of reunion for all fans of the team who reside in Germany and Italy.
How and when was your Roma Club founded?
"Our Roma Club was founded in the 1970s by Alitalia employees who were in Dusseldorf. They were Italians of course and Roma fans. They agreed to get together to watch matches or hear them on the radio. It's been several years since then, and now it's 2022, and there are various social websites. Now everything is easier. Even just contacting and gathering fans in Germany is easier. We have about 50 members scattered all over Germany. In fact, we don't only reside exclusively in Dusseldorf, but we also go through Cologne, Bohm, Munich, Stuttgart, and so on. Right now we don't have a real head office but we organize ourselves in various groups on Facebook and Whatsapp to go and make trips. For example, the last one we did was in Hartheim, which is also close to us. Soon we will also have our own club down in Milan. For example, for the final of the conference league, we saw it in a club in Bohm, where they reserved the biggest part for us to see it all together on the big screen. We had a huge party. There were so many of us. People came from all over Germany. That's as far as our birth and evolution has expanded. Of course, we have grown and we are very active on many platforms. Especially for those who are staying right here in Dusseldorf. We are also able to organize meetings at members' homes; even including our families' homes. This also happens in other cities like Cologne, Stuttgart, Uhlm, etc., where there are exclusive supporters for our club. Fortunately, there are many social media outlets that make it easier for us to communicate with each other".
How do you feel about this league start?
"I would like to give an opinion not only for myself but also for our members and for what is being discussed in our club and in our groups. With the new signings and with the press seeing us as a top team, we expect so much from this season. Our president has invested a lot of money to create a roster that can compete with the 'Bigs' in Italy. So honestly after seeing the last few outings, we have been a bit disappointed, but I hope we have just been unlucky with the injuries of some players like El Sharaawy or the loss of our Gini Wijnaldum. We expect more positive results in the future. We have also won, it is true, but we have not yet shown what all of our members expect more or less."
Who do you like most about the new signings and why?
"Unfortunately for Wijnaludm, I can't make a judgment yet…Celik played the last few games, and he showed a couple of positive things but to make us happy he has to do something more. For us our best purchase is the star Dybala, you know. We like him a lot, you can see he has good feet. When he passes the ball from one side to the other even without looking... you can see he is very good and will be able to do a lot to help the team. He is a player I have always admired and followed, definitely one of the strongest."
What are your prospects for the Europa League?
"After looking at the value of the Europa League teams on paper, we can say that Roma is a big name, and above us, I would only put Arsenal, Manchester United, and Monaco, which I put as favorites because their name is better. But of course, I cannot exclude Roma from this elite circle. If the boys start showing what they are worth and make the players reflect their value on paper, then we can move on. I don't know if it's enough for victory, but we can certainly get to the semifinals again. We can always play differently from the first game and try to improve, as we did against Helsinki. This would already be a good result, clearly, I hope Roma will get to the final and win two cups consecutively. I really don't think it has ever happened for Roma. It would definitely be one of the best results ever achieved in the history of the team."
How do you organize during matches and what are your programs during the year? I mean also events outside of the matches.
"Our programs during the year before the covid-19 pandemic consisted of an annual party either in the summer or in the winter. For example, a Christmas party where all members with their families were invited, and this day would be entirely dedicated to the Roma Club. Also since as I said before, we have supporters all over Germany, so of course, all members can come and it's an opportunity to get all of us together, even those who are far away. This year I'm organizing the event and I'm particularly keen for as many members as possible to come. For the big matches, we also organize into small groups scattered all over Germany. These groups are not always the same people. Sometimes they even swap with each other. The trips are organized through WhatsApp groups. For example, if someone wants to leave to go to see the match in Milan, they write it on the group and whoever joins then creates another, smaller group where the organization takes place exclusively for that match. We organize between cars, trains and planes."
Do you plan to expand your club? If so, how?
"We are always happy to find more and more Roma fans in Germany. Also, there are pros and cons to having the club with members scattered all over Germany. For example, the rents here in Germany are very high, so it's difficult to find a room to dedicate exclusively to the club. Because then just for the 10 members that are around here, the cost would be so high that we wouldn't be able to meet those expenses. The good thing about having members scattered all over the country is that we club members, once we get to know each other, create a family atmosphere. For example, I have gone down to Puglia and passed dozens of places where members live, and we have stopped by many of them even just for coffee. Since we have support all over Germany, we always have someone to visit and it is always good to meet more and more people and have as many members as possible".
After last season, what are your thoughts on Mourinho, and how do you think he acts during this league season and in the Europa League?
"I am a huge fan and supporter of his. No one can handle the media like him, in my opinion, with the pressure of the press and media in Rome he is really doing a great job. He always takes responsibility and protects his team which would be subjected to maybe suffering some injustices. He puts the cross on his shoulders and helps the team mentally. He has greatly influenced the mind and character of some players, changing and improving them, and making them grow. He said in the press conference that this project will take some time. He hopes to create something important. I admire his familiarity in the soccer market because he asked for players who are good and he asked for players who above all else, the fans like. For example, Wijnaldum or Dybala, whom we fans dreamed of and never thought this dream would come true. Let's see how it will go this year as well. Last year we brought home a European Cup, so we can be extremely happy with the work that our coach did and also what our team did."
What does AS Roma mean to you?
"Roma means so much to me...I say it sincerely. My dates go according to the Roma match schedule. My passion for Roma was born many years ago when I was a little boy. I have Apulian origins and am from Bari. My father was not a soccer lover. He had a wholesale here in Germany of Italian products. He supplied gastronomy here and was one of the first importers from Italy in the 1980s. Because of this, he often drove down to Italy, and at a truck stop in the 1980s, he brought me a Roma pennant as a gift. I hung it in my room without thinking about it, even without knowing what it meant given my young age. Slowly, as I grew older, I understood what it meant, and it was the first thing I received from any team. And it was from Roma. So I got curious about this team and I inquired about what the pennant was and about what AS Roma was. Then slowly with the means, I had in the 90s, and fortunately after a little while with the internet, I watched on the italian television website the results and pieces of videos that they were putting up because here in Germany we didn't have Italian TV until the late 90s. When they used to show the Sunday night matches and Roma played a few times because predominantly they used to let the northern teams play on Sunday night. Roma is my greatest passion; I live it every day. I became a dad two months ago, and my daughter already had Roma things even before she was born. I will try to transmit my great passion to her. It is a very important thing for me. Roma for me is family. I have a very close relationship with the members. We are like relatives who help each other. I have been living in Rome for many many years...I dedicate my passion and interest to this team, and for me, they are the most beautiful colors that exist. Even down in the basement, I created a room with a giant picture of the Curva Sud and I painted the other walls yellow and red."
© RIPRODUZIONE RISERVATA